Oregon could well be the third state to end up with a marijuana legalization initiative on the ballot after supporters of the Oregon Cannabis Tax Act (OCTA) said they had handed in more than 165,000 signatures by last Friday's deadline. Marijuana regulation and legalization initiatives have already qualified for the ballot in Colorado and Washington.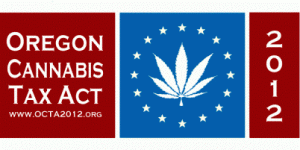 The Oregon measure needs 87,000 valid signatures to qualify for the ballot.
"We believe we are going to make it easily," said OCTA chief petitioner Paul Stanford at a Salem news conference Friday morning.
But it's still nail-biting time as state election officials can take up to a month to validate signatures, and they have already invalidated signatures handed in earlier at a record rate. At the end of May, OCTA turned in 108,000 signatures, only to have nearly half of them invalidated, a shockingly high percentage of disqualifications.
With only 55,000 valid signatures from that first batch of 108,000, that means OCTA has to come up with 32,000 valid signatures from that second batch of 57,000. If the same rate of invalidation holds, the measure will fall just short.
But last month,
Stanford told the Chronicle
the OCTA campaign had tightened up its signature gathering in the wake of the high invalidation rate on the early signatures. "We're screening our signatures much better now, we're checking in with every single petitioner. We're closely scrutinizing every incoming sheet," he said.
If OCTA makes the ballot and is approved by voters in November, Oregon would regulate the cultivation and sale of marijuana to adults 21 and over. The measure would also legalize hemp production in the state.
A second marijuana effort, the
Oregon Marijuana Policy Initiative
(OMPI), would have asked Oregon voters to approve a state constitutional amendment to legalize personal cultivation and possession of marijuana. While it, too, appeared to have a good chance of qualifying earlier this year, it too suffered from record high signature invalidation rates.
Because it is a constitutional amendment, it faces a higher hurdle, needing 124,000 valid signatures to qualify. Chief petitioner Robert Wolfe told Reuters this week he did not expect OMPI to make the ballot because of the high number of disqualifications. He told the Chronicle last month he was contemplating legal challenges to the invalidations.
In a month or less, we will know if OCTA has qualified. We could end up with a Western weed legalization trifecta for November.