Lead us not into temptation with seized cash, nearby evidence rooms, and the perks of police powers, amen. A few law enforcement officers haven't been reciting the prayer. Let's get to it: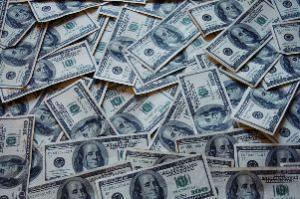 In Austin, Texas,
the state attorney general's office is reviewing the use of asset forfeiture funds by the Brooks County Sheriff
. An audit of $562,000 in asset forfeiture spending by Sheriff Balde Lozano found that he spent $394,000 to purchase 18 cars without county approval for reasons that had nothing to do with law enforcement and that he charged more than $88,000 in restaurant dinners, department and electronics store purchases, and at hotels and gas stations. He spent $3,000 at Cavender's Boot City alone. Lozano has not yet been charged with any crime, but the investigation comes only eight months after former Brooks County DA Joe Frank Garza was sentenced to prison for skimming at least $1.2 million from the fund for himself and his former staff members.
In Bridgeton, New Jersey
, a Williamstown police officer was arrested last Wednesday
on steroid-peddling charges, including a count of intending to deal drugs near a local school. Officer Robert Smith, 31, went down after local police received information he was involved in narcotics. He is charged with possession of a controlled substance, possession of a controlled dangerous substance with the intent to distribute, and distribution of a controlled dangerous substance in a school zone. At last report, he was being held in the Salem County jail on $75,000 cash bail. He has been suspended without pay and faces dismissal if found guilty.
In Alexandria, Louisiana,
a former supervisor of the Rapides Parish drug task force was indicted last Thursday
on a slew of drug and malfeasance charges. Michael LaCourt had originally been arrested in Augusts, but a parish grand jury issued a superseding indictment charging him with distribution of methamphetamine and conspiracy to distribute meth. He is also charged with having sex multiple times with a woman who was under the supervision of the Division of Probation and Parole. He faces four malfeasance charges, three of them for his misbehavior with the woman and one for falsely telling Crimestoppers that a certain person had provided information in a case, allowing that person to collect reward money. Bond was set at $150,000. LaCour had headed Metro Narcotics from 2008 until his August 2011 arrest. He went down after "three female offenders" complained about him.
In Carlsbad, California,
a Carlsbad vice and narcotics detective was arrested last Thursday
after he was caught stealing drugs from the evidence room "by various police employees." Det. Michael Koch, 44, an 18-year veteran of the department, was arrested within hours of the incident and posted $25,000 bail last Friday. The department declined to comment on the type or quantity of drug is accused of taking.
In Tucson, Arizona,
a Border Patrol agent and an Arizona prison guard were arrested last Thursday
on charges they had conspired to smuggle drugs into the US. Border Agent Ivhan Herrera-Chiang and corrections officer Michael Lopez are charged with conspiracy to distribute methamphetamine, cocaine and marijuana. Herrera-Chiang had been part of the Border Patrol's Smuggling Interdiction Group since March 2011, but was actually acting as a middle man between Mexican drug traffickers and Lopez. He is accused of monitoring Border Patrol radio and agent locations and notifying Lopez where the smuggling effort should occur. Both men are reported to have made at least partial confessions.
In Savannah, Georgia,
a former Savannah-Chatham police officer pleaded guilty last Friday
to extorting drugs and a cell phone while working off-duty at a night club while in uniform. Floyd Sawyer, 45, went down after DEA agents informed the FBI they had received reports that Sawyer and another Savannah police officer, Sgt. Kevin Frazier, were shaking down dealers at the club and taking their drugs and other possessions. FBI agents set up a sting, sending an undercover agent into the club posing as a dealer. Sawyer and Frazier shook down the agent, taking Oyxcontin pills and a cell phone from him. The pills ended up going to a local small-time dealer and the phone ended up with one of Sawyer's relatives. Sawyer pleaded guilty to extortion, but denied using force or intimidation, leaving the judge in the case to warn that he may not accept the plea bargain.
In Palm Beach, Florida,
the commander of the Palm Beach County Sheriff's Office SWAT team has been placed on administrative leave
, the office announced Tuesday. Lt. Daniel Burrows, a 17-year-veteran of the department was placed on leave January 3 amid allegations of misuse of prescription pain medication and possibly being under the influence of drugs while on duty.