With a 15% increase in shooting deaths of law enforcement officers last year, and with this year kicking off with an Ogden, Utah, drug raid that left one officer dead and five more wounded, some police trainers are saying it is time for police to rethink their tactics, USA Today reported Wednesday.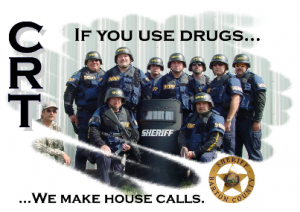 Some 68 law enforcers were killed by gunfire last year, 10 of them while serving search warrants or on multi-agency raids. While only three of them died doing work directly related to drug law enforcement -- two US Marshals were shot and killed in separate raids trying to arrest drug fugitives and one Florida police officer was killed trying to search suspicious persons for drugs -- the bloody Ogden raid has focused attention on drug raids.
In that raid, aimed at Matthew Stewart, an Army veteran with no criminal record who was supposedly "self-medicating" with marijuana he grew himself, a local drug task force forced its way into his home only to be met with ferocious gunfire. When the bullets stopped flying, Ogden Officer Jared Francom was dead and five of his comrades and Stewart were wounded. Prosecutors said this week they would seek the death penalty for him.
But that won't bring back Officer Francom, and police need to reevaluate their tactics, said Pat McCarthy, who advises police agencies across the country.
"The days of knocking down doors in drug cases should be over. Given what's going on now, you have to consider other options," McCarthy told USA Today. "Police should focus on trying to lure suspects out into the open or just "wait them out," he said. "It's time to change our thinking, Cops are exposing themselves to increasing danger many times over, and it's just not necessary."
The Justice Department will host a meeting later this month with researchers and law enforcement officials to review tactics and training in the wake of the officers' deaths.
Of course, it's not just police who died in drug raids. The Chronicle's tally of domestic drug war deaths last year includes 13 civilians who were killed by police in drug raids on residences.