Last year saw efforts in numerous states to pass laws requiring that people receiving or applying for public benefits, such as food stamps or unemployment, be required to take and pass drug tests. This year looks to be more of the same, and some Mississippi legislators want the Magnolia State to be first out of the gate.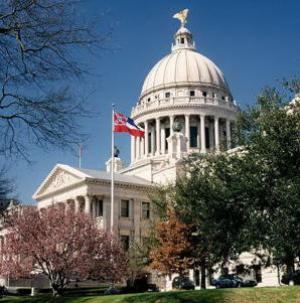 State Sen. Michael Watson (R-Pascagoula) told the
Mississippi Press
Monday that he will introduce this week a bill that requires recipients of public benefits to take mandatory drug tests and prove their US citizenship. The bill would apply to people receiving Medicaid, food stamps, electronic benefit transfer cards and other state assistance program benefits.
"Our system is abused," Watson said. "Across the state, lawmakers have big hearts and truly want to help people, but we want to help people who also want to help themselves."
Public benefits are designed as temporary help for people going through hard times, he explained.
"To the people who are taking advantage of our generosity and hardworking Mississippian's tax dollars, we want to say no more," Watson said. "The folks that can work need to get a job and stop taking advantage of our system."
The unemployment rate in Mississippi was 10.5% in November, the last month for which state-level data are available. It has hovered at over 10% and above the national average for all of the past two years.

Watson said he has heard opposing arguments that such programs are likely to save states little money, but said it would still be worth it.

"It's a sensitive and an emotional topic, but you have to look at it logically," Watson said. "Even if you break even, it's well worth it in my opinion."

Watson said his bill is modeled on a Florida law implemented last year. He didn't mention that the law was blocked shortly after it went into effect. A Florida welfare recipient backed by civil liberties attorneys successfully sought a temporary injunction in federal court and is awaiting a decision on a permanent injunction.

In Florida, the federal district court found a high probability that suspicionless drug testing will be found to be an illegal search under the Fourth Amendment. That ruling was based in part on a US 6th Circuit Court of Appeals ruling in 2003 that threw out a Michigan welfare drug testing law -- the last suspicionless drug testing bill to be passed before Florida's.

Other states have passed drug testing bills that seek to avoid the constitutional issues by limiting drug tests to those benefits recipients officials have reasonable grounds to believe have been using drugs. Such measures have been passed in Arizona, Indiana, and Missouri, and have so far not been tested in the courts.

Ed Sivak, director of the Mississippi Economic Policy Center, told the Mississippi Press such efforts are misguided. "This is a policy proposal that's looking for a problem," Sivak said.

Sivak cited studies of programs in Idaho and Louisiana that found only small percentages of people tested positive and that the programs could cost as much as they save. He also said the state could have to pay to defend the bill if it becomes law and is challenged.

Legislators seem split along party lines on the welfare drug testing issue.

Rep. Steve Holland (D-Plantersville) said he saw no benefit to it. "And for what reason?" he asked. "What value does it offer? Other than further humiliation of mankind?"

But Sen. Bruce Wiggins (R-Pascagoula) said he supported the bill. "If you're getting, essentially, free healthcare from the government, you don't need to be doing drugs," Wiggins said.

Watson's bill could go before the Drug Policy Committee, where he is vice-chairman, or before the Public Health and Welfare Committee, on which Wiggins sits.

Mississippi isn't the only state moving fast on the issue this year. A hearing on an unemployment drug testing bill is set for this week in South Carolina, and movement is happening in other states, too. Look for a feature article on the issue next week.