Proponents of a Colorado marijuana legalization initiative turned in more than 159,000 signatures to the secretary of state's office Wednesday, nearly twice as many as the 86,500 required for the measure to be approved for the November ballot. The state has 30 days to verify the signatures and approve the measure for the ballot.
The
Regulate Marijuana Like Alcohol Act of 2012
would legalize the possession of up to an ounce or six plants (three mature plants) by people 21 or over. It would also compel the state of Colorado to come up with regulations for commercial marijuana cultivation and sales by July 1, 2013.
The campaign for the initiative is being spearheaded by two well-known, Colorado-based activist organizations,
SAFER Colorado
, led by Mason Tvert, and
Sensible Colorado
, led by Brian Vicente. The campaign estimates that legalizing and regulating marijuana would save the state $80 million a year in law enforcement costs and generate $40 billion a year in tax revenues.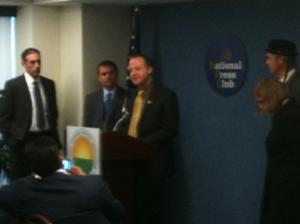 "This is a job well done and a crucial first step to ensure Coloradans have a chance to make history," said Art Way, Colorado Manager of the
Drug Policy Alliance
, which supports the measure. "There's simply no denying the intense groundswell for change. This initiative is another indication that Colorado is moving away from non-sustainable drug policies that don't benefit society at large," said Way. "The selective enforcement of marijuana prohibition and the often undue collateral consequences associated with prohibition should impel all who believe in individual liberty to support this initiative."
Initiative organizers will have their work cut out for them. A
Public Policy Polling survey
of Colorado residents in December asked "in general, do you think marijuana usage should be legal or illegal," and legal won by a margin of 49% to 40%. Earlier polls had slightly higher levels of support, but the conventional wisdom among initiative experts is that initiatives should be polling at 60% or above before the campaign begins.
Still, it now appears that voters in at least two states -- Colorado and Washington -- will have the opportunity to legalize marijuana this year.