Seattle Mayor Mike McGinn (D) used his state of the city address last Tuesday night to make a heartfelt plea for marijuana legalization. The mayor's remarks came as a new poll showed that an initiative that would legalize marijuana is favored by voters.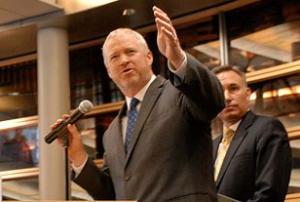 "It is time we were honest about the problems we face with the drug trade. Drugs are a source of criminal profit, and that has led to shootings and even murders. Just like we learned in the 1920s with the prohibition of alcohol, prohibition of marijuana is fueling violent activity," McGinn said in his prepared remarks.
"Seattle is the kind of place that isn't afraid to try a different approach," he continued. "We support safe access to medical marijuana and made enforcement of possession of marijuana for personal purposes our lowest enforcement priority. But we've learned in the past year that with the federal war on drugs still intact, and with our kids still getting gunned down on the streets, we need to do more.
"I know every one of the city council members sitting to my left and right believe as I do: It's time for this state to legalize marijuana, and stop the violence, stop the incarceration, stop the erosion of civil liberties, and urge the federal government to stop the failed war on drugs."
Mayor McGinn's remarks came as Washingtonians prepare to decide the issue for themselves in the November elections. A marijuana legalization initiative,
I-502
, has already been approved for the ballot. Sponsored by
New Approach Washington
, the initiative would create a system of state-licensed and -regulated marijuana commerce and allow adults 21 and over to possess up to one ounce.
A
Public Policy Polling survey
released this week shows the initiative leading, although not with a majority. In the poll, 47% of voters said they're currently inclined to vote yes on the measure, with 39% saying they are opposed.
A similar initiative is poised to make the ballot in Colorado, having handed in four times the number of signatures it needed for its final push, while legalization initiative signature-gathering campaigns are underway in California, Michigan, Missouri, Montana, Nebraska, and Oregon.