All 16 cannabis coffee shops in the city of Haarlem have united in opposition to the Dutch government's "Weed Pass" program, which would bar foreigners from entry to the coffee shops and make the coffee shops "members only" for Dutch citizens. The plan foresees placing a cap on the number of members each coffee shop could have.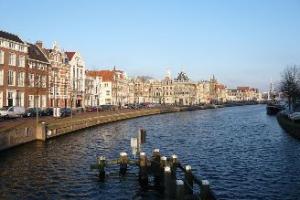 The conservative coalition governing the Netherlands doesn't like marijuana. It has created the Weed Pass program first as a measure to reduce "drug tourism" in Dutch border cities, and second as a means of restricting coffee shop numbers within the county. It was supposed to be rolled out in the border towns in January, but has been delayed until May, and is supposed to go nationwide next year, despite objections from, among others, the city of Amsterdam.
The Haarlem coffee shop owners, unified as Team Haarlems' Coffeeshopentrepreneurs (THC),
announced Friday
that they "have decided not to comply with the new criteria for tolerated coffee shops, like registering Dutch citizens as cannabis users, and discriminating against all non-Dutch coffee shop visitors."
The Weed Pass plan would bankrupt their businesses and lead to increases in street drug dealing and personal marijuana cultivation, the association warned. It cited the results of a poll of 700 coffee shop patrons it had conducted.
That poll found that only 12.4% of participants would register under the Weed Pass program. Nearly 63% said they would buy marijuana on the black market, while 21.7% said they would grow their own instead.
If coffee shops lost nearly 90% of their clientele, they would go broke, so complying with the Weed Pass "is simply no option," the association said. Closing up shop would result in the loss of about 90 "budtender" jobs in the city, they added.
"We cannot beat bankruptcy, so our staff, customers and ourselves are ready to start a struggle with Justice Minister Ivo Opstelten, before our civilized city will be divided in working areas for street dealers and drug runners," the association vowed.
Haarlem is a city of about 150,000 people just west of Amsterdam and on the northern fringe of the
Randstad
, a conurbation of 7.1 million people, that includes Amsterdam, The Hague, Rotterdam, and Utrecht, and is one of the largest metropolitan areas in Europe.