The number of people in prison in America declined last year for the second year in a row, according to a new report from the Bureau of Justice Statistics. The number of prisoners at the end of 2011 dropped to just under 1.6 million, a 0.9% decrease over the previous year.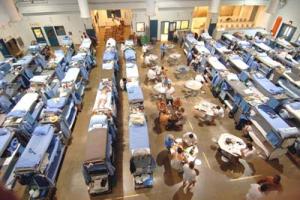 Of those 1.6 million prisoners, some 330,000 were doing time for drug offenses, including nearly 95,000 doing federal time.
There were 15,023 fewer inmates at the end of 2011 than a year earlier, but that number is more than accounted for by a single state, California, which reported a decline of 15,493 prisoners due primarily to an incarceration realignment program that has sent what would have been state prisoners to county jails instead. Counting just state prison populations, 2011 saw a decline of 21,164 prisoners, or 1.5%, again with California accounting for 72% of the decrease.
Overall, 26 states reported declines in prison populations, while 24 reported increases. While overall state prison population numbers are declining slightly, the federal prison population continues to increase, largely offsetting the decline in the states. The federal prison population increased by 6,591 prisoners, or 3.1%.
The growth in the federal prison population is largely driven by drug war prisoners. Drug offenders constitute 48% of all federal inmates, or some 94,600 inmates. By contrast, only 7.6% of federal inmates are doing time for violent crimes.
Among state prisoners, drug offenders accounted for 17%, or slightly fewer than one out of five. That means some 235,000 were doing state prison time on drug charges at the end of 2011, bringing the combined state and federal total to 330,000. That's a slight decline over a decade ago, but still represents incalculable human costs, as well as easily calculable financial ones.