Greenland, New Hampshire, Police Chief Michael Maloney was shot and killed and four other officers were shot and wounded during a drug raid last Thursday evening. Maloney becomes the 23rd person to die in US domestic drug law enforcement operations so far this year.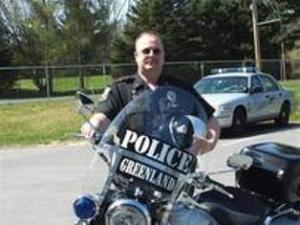 According to state and local officials
at a press conference that night, the male suspect in the shooting and a female remained barricaded inside his home along and surrounded by a SWAT team, which was called to the scene after shooting broke out. The resident at the address in the raid has been identified as Cullen Mutrie, 29, who was facing steroid possession charges after police who came to his home to confiscate guns after a 2010 domestic violence complaint found them in his living room.
[Update: Mutrie and the as yet unidentified woman were found dead inside the home after a police robot was sent in early last Friday morning. Police said it wasn't clear if it was a murder-suicide or a double suicide. They become the 24th and 25th persons to die in US domestic drug law enforcement operations so far this year.]
It's not yet clear precisely why police were raiding his home Thursday. Police did confirm it was a drug raid and that the suspect had opened fire. Other than that, it is also unclear exactly what transpired, except that Maloney is dead and four officers are wounded. They have been identified as Det. Jeremiah Murphy of the Rochester Police Department, Det. Gregory Turner of the Dover Police Department, Det. Eric Kulberg of the University of New Hampshire Police Department and Det. Scott Kukesh of the Newmarket Police Department.
Two of the four were shot in the chest and were in intensive care early Friday. Two others were treated and released, one with a gunshot wound to the arm and the other with a gunshot wound to the shoulder. They were working as part of a drug task force.
Maloney, 48, was a 26-year law enforcement veteran and had been chief in Greenland for the past 12 years. He was due to retire in less than two weeks.