Newly installed Peruvian President Ollanta Humala is facing the first serious challenge to his authority as coca farmer unions have gone on strike to protest the resumption of coca plant eradication. Just last month, in a nod to growers whom he had promised he would halt involuntary eradication, Humala's government announced a temporary halt to eradication in the Upper Huallaga River Valley, but now eradication is again underway, and the coca farmer unions are up in arms.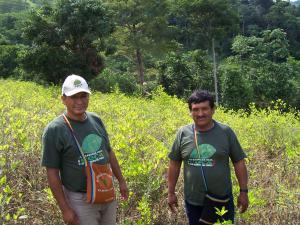 Earlier this week, strikers erected roadblocks on a major regional highway, and two people had been injured and seven arrested by the time Humala declared a 60-day state of emergency in the Ucayali region Tuesday night. Coca grower unions are threatening an "indefinite national strike" within two weeks if forced eradication isn't ended.
Coca has been grown in Peru for thousands of years and is an intrinsic part of Andean life. Although international anti-drug treaties consider it a controlled substance, tens of thousands of Peruvian farmers grow it legally under license from ENACO, the Peruvian state coca monopoly, which then sells the product for traditional, nutritional and industrial uses.
But tens of thousands of other coca farmers are not registered with ENACO, and their product often ends up being processed into cocaine for the insatiable North American, European, and Brazilian markets. According to the
UN Office on Drugs and Crime
, Peru has now surpassed Colombia as the world's largest coca leaf producer with 61,000 hectares planted, up 2% from last year.
"Eighty percent of the population here are farmers who want the government to redirect its eradication efforts," Jaime García, deputy mayor of the town of Padre Abad in Ucayali, told local radio in remarks reported by the
Financial Times
.
The same newspaper reported that Nelson Torres, head of the Ucayali chamber of commerce estimated the growers' road blockade was costing $3.6 million a day. He was dismissive of the Humala government's early steps to contain the conflict. "It's the same policy as the previous government," he told local radio. "You have to have to go on strike or create stoppages just to sit down and talk."
Perhaps Ricaro Soberon, the head of the Peruvian anti-drug agency DEVIDA, is belatedly getting that message. He finally met with coca growers on Monday, but not before
he told reporters in Lima last week
that the Humala government will implement a "sustainable" eradication program that replaces coca with alternative crops. The country will also increase anti-drug spending 20% next year, step up interdiction efforts, and institute tighter controls on chemicals used to process coca into cocaine, Soberon said.
"Crop reduction must be definitive, which means replacing coca with an economically viable alternative," said Soberon. "This problem is well beyond our ability to confront alone so we're worried about the trend of declining international aid."
Soberon, an attorney and drug policy expert who has been a critic of past eradication programs, has already faced calls for his resignation for being "soft" on coca, and the temporary halt to eradication also raised concerns in the US.
Now, though, Humala and Soberon have to balance their sympathy for coca farmers whose support they successfully sought during the election campaign, against demands from Washington and conservative factions inside Peru that they repress the crop. On Tuesday, the national coca growers' union CONPACCP (the National Confederation of Agricultural Producers of the Coca Valleys of Peru) issued a
communique
which announced that they would support an "indefinite national strike" against forced eradication within the next two weeks, even as they defended Soberon against attacks from the right.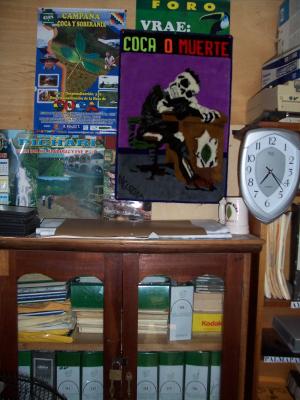 "Agents of US interests, like [former interior minister] Fernando Rospigliosi have unleashed a campaign of destruction against one of the few specialists in drug traffic, Ricardo Soberon," CONPACCP noted. "They say that Soberon's closeness to the cocaleros is a defect, when in reality, it is a logical consequence of his work as an analyst who has studied deeply the problematic of coca leaf cultivation and who could, if they let him do his job, propose solutions that transcend mere repression and criminalization of the weakest link in the chain, which in this case is the growers, and not the grand narcos and the apparatus that they have created around the commercialization of cocaine hydrochloride and its derivatives."
While defending Soberon, CONPACCP called for further meetings in a bid to find a nonviolent solution to the conflict and demanded that Humala fulfill his campaign promise to end forced eradication. It also had specific criticisms of the eradication program in Ucayali.
"The forced eradication campaign is going on in zones next to the highway that are affiliated with the CONPACCP, small parcels where farmers deliver their coca to ENACO, while they are not eradicating the grand plantations of coca that can be found 12 miles from the highway," the union complained. "They are taking photos and making recordings of these roadside eradications and then showing them next to images of [cocaine production] maceration pits as if they were at the same site in order to deceive the population."
Authorities are not going after the big plantations because they have "corrupted" the eradication program to be "untouchable," CONPACCP continued. To not eradicate the big plantations connected to the drug trade while eradicating small plots of registered farmers results in "incoherent anti-drug policies of the government," the union argued.
The eradicators themselves are behaving lawlessly, CONPACCP complained. "Besides the unjust eradication, they are robbing the animals and goods of the population" and have "unjustly detained" seven peasant farmers "whose immediate liberation we demand."
CONPACCP is supporting the current "indefinite strike" in Ucayali and is giving the Humala government two weeks to show good faith before it calls for a national coca grower strike. Humala and Soberon are going to have their work cut out for them as they attempt to chart a course that pleases both the coca growers and Washington.