A bill that would allow farmers in four California counties to grow industrial hemp has passed the state legislature and now sits on the desk of Gov. Jerry Brown (D) awaiting his signature. The bill, Senate Bill 676, the California Industrial Hemp Farming Act, passed the Senate earlier this year, then passed the Assembly last week.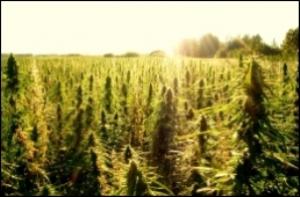 Sponsored by state Sen. Mark Leno (D-San Francisco), the bill would allow farmers in those counties to grow industrial hemp for the legal sale of hemp seed, oil, and fiber to manufacturers. The bill specifies that hemp must contain less than 0.3% THC, the primary psychoactive ingredient in cannabis, and farmers must submit their crops to testing before it goes to market.
The eight-year pilot program would end in 2020, but not before the California attorney general would issue a report on law enforcement impact and the
Hemp Industries Association
would issue a report on its economic impact.
"California is one step closer to building a successful hemp industry in the Central Valley," said Leno after the Assembly approved the bill on a vote of 49-22 on September 7. The Senate gave its final approval to Assembly amendments the following day.
While hemp bills have passed the state legislature previously, SB 676 is the furthest reaching yet and managed to pick up support from businesses, farming groups, local government, labor, even law enforcement. Supporters ranged from the California Grange and the California Certified Organic Growers to the United Food and Commercial Workers to the Kern County Board of Supervisors and the Kern and King county sheriffs, both of whom wrote
letters of support
in favor of the bill.
"Hemp is a versatile cash and rotation crop with steadily rising sales as an organic food and body care ingredient. Today, more than 30 industrialized nations grow industrial hemp and export it to the US. Hemp is the only crop that is illegal to grow yet legal for Americans to import," explained Eric Steenstra, president of
Vote Hemp
and executive director of the Hemp Industries Association.
The US hemp market is now estimated to be about $420 million in annual retail sales, but manufacturers must turn to foreign suppliers because the DEA, which refuses to differentiate between industrial hemp and recreational and medical marijuana, bars its cultivation here.