South Carolina's Republican Gov. Nikki Haley wants to drug test unemployment recipients before they can receive benefits, she told a group of supporters last Thursday, and she wants it so bad she was willing to resort to lying about the extent of the problem.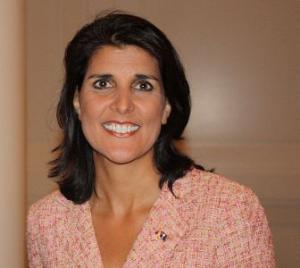 "I so want drug testing. I so want it," Haley said during a question-and-answer session at the Lexington Rotary Club. But she added that that some hurdles had to be cleared first. "We have to make sure this works. We have to see what the return is on it. And, we have to see federally and legally if we can do it."
As for why South Carolina needs to drug test unemployment applicants, Haley claimed that huge numbers of applicants for jobs at the Savannah River Site nuclear facility failed post-interview drug tests.
"Down on River Site, they were hiring a few hundred people, and when we sat down and talked to them -- this was back before the campaign -- when we sat down and talked to them, they said of everybody they interviewed, half of them failed a drug test, and of the half that was left, of that 50%, the other half couldn't read and write properly," Haley said."That's what we have in South Carolina," she continued. "We don't have an unemployment problem. We have an education and poverty problem."
But as the
Huffington Post
reported Friday, Haley was full of it. The Post talked to Jim Giusti, a spokesman for the Department of Energy, which runs the facility. He said he had no idea what Haley was talking about.
"Half the people who applied for a job last year or year 2009 did not fail the drug test," Giusti said. "At the peak of hiring under the Recovery Act we had less than 1% of those hired test positive." And the River Site doesn't even test applicants, Giusti added. "We only test them when they have been accepted," he said.
South Carolina does not have a demonstrable problem with drugged out unemployed workers. What it does have is an unemployment rate of 10.9% and an unwillingness to spend state money to support the unemployed. In June,
Gov. Haley signed into law a bill cutting unemployment benefits
from 26 to 20 weeks while lowering unemployment taxes on businesses.
At least four other Republican controlled states have slashed the length of time out of work people can receive unemployment benefits, but no state has yet to pass a law requiring drug testing for unemployment beneficiaries, although several have been introduced this year. Republican-controlled Wisconsin and Indiana have passed laws that cut unemployment benefits for job applicants who fail a drug test.
If Gov. Haley's fictions about drugged out workers are the best that proponents of drug testing the unemployed can do, perhaps the South Carolina legislature will reject her welfare for drug testing labs proposal.