Vietnamese drug users detained by the police are held for years without due process, subjected to torture and physical violence, and forced to work as low- or no-wage labor in camps that are supposed to be drug treatment centers, according to an explosive new report released Wednesday by Human Rights Watch, which called for the camps to be closed and the prisoners released.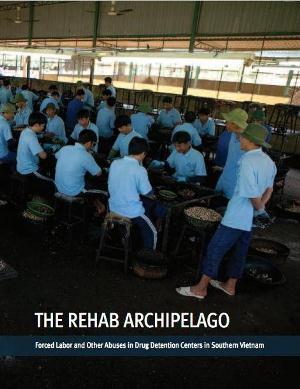 The report,
The Rehab Archipelago: Forced Labor and Other Abuses in Drug Detention Centers in Southern Vietnam
, documents the experience of people confined in 14 detention centers controlled by the government of Ho Chi Minh City. It found that the camps, which are mandated to treat and rehabilitate drug users are instead little more than forced labor camps where prisoners work six days a week processing cashew nuts, sewing clothes, and manufacturing other items.
Those who refuse to work or who violate camp rules are subject to punishments that Human Rights Watch said in some cases amounts to torture. It cited the experience of Quynh Luu, a former detainee who was caught trying to escape.
"First they beat my legs so that I couldn't run off again," Quynh said. "Then they shocked me with an electric baton and kept me in the punishment room for a month."
Quynh's case is hardly an exception, said the human rights monitoring organization, which talked to numerous current and former prisoners.
"People did refuse to work but they were sent to the disciplinary room. There they worked longer hours with more strenuous work, and if they balked at that work then they were beaten. No one refused to work completely," said Ly Nhan, who was detained in Nhi Xuan center in Ho Chi Minh City for four years.
"Work was compulsory," said Luc Ngan, who was a minor when he began more than three years in detention at Youth Center No. 2 in Ho Chi Minh City. "We produced bamboo furniture, bamboo products, and plastic drinking straws. We were paid by the hour for work -- eight-hour days, six days a week."
While workers were paid, they never saw the money, said Quynh, who spent five years at Center No. 3 in Binh Duong province. "On paper I earned 120,000 Vietnamese dollars a month, but they took it. The center staff said it paid for our food and clothes."
"If we opposed the staff they beat us with a one-meter, six-sided wooden truncheon. Detainees had the bones in their arms and legs broken. This was normal life inside," said Dong Ban, who was imprisoned for more than four years in Center No. 5 in Dak Nong province.
"Tens of thousands of men, women and children are being held against their will in government-run forced labor centers in Vietnam," said Joe Amon, health and human rights director at Human Rights Watch. "This is not drug treatment, the centers should be closed, and these people should be released."
The Vietnamese embassy in Washington did not return a call for comment Wednesday.
The system of forced labor camps for drug users originated with "reeducation through labor" camps for drug users and prostitutes established after the North Vietnamese victory over the South in 1975. They received a renewed impetus in the mid-1990s as the government launched a campaign to eradicate "social evils," including drug use. Their numbers have grown as the Vietnamese economy has expanded, more than doubling from 56 in 2000 to 123 at the beginning of this year.
Perversely, international donations to support drug treatment centers and to the Ministry of Labor, Invalids and Social Affairs have enabled the regime to continue to hold HIV-positive drug users against their will, even though Vietnamese law says they have the right to be released if they are not receiving appropriate medical care. Since 1994, international donors have sought to "build capacity," including training staff in drug treatment and support for HIV interventions, but Human Rights Watch reported that most centers offer no antiretroviral treatment or even basic medical care. The group cites various reports putting the number of HIV-positive detainees at between 15% and 60% of the detainee population.
The report contains testimonies from numerous detainees and former detainees who said they were sent to the centers without a formal hearing and without ever seeing a lawyer or judge. Some were sent to the camps after being arrested by police, while others were turned in by family members who "volunteered" them, believing they would get effective drug treatment there.
"I was caught by police in a roundup of drug users," said Quy Hop, who spent four years in the Binh Duc camp in Binh Phuoc province. "They took me to the police station in the morning and by that evening I was in the drug center. I saw no lawyer, no judge."
A small number of detainees voluntarily placed themselves in the centers to get drug treatment, but even they were not free to leave. Some reported that their detention was capriciously extended by camp managers or by changes in government policy.
Human Rights Watch was unable to provide the names of any foreign companies benefiting from detainee labor, saying "the lack of transparency or any publicly accessible list of companies that have contracts with these government-run detention centers made corroborating the involvement of companies difficult." But it did cite Vietnamese media reports as saying two Vietnamese companies, Son Long JSC, a cashew processing firm, and Tran Boi Production, which manufactures plastic goods, both used detainee labor. Neither company has replied to inquiries from Human Rights Watch, the group said.
"Forced labor is not treatment, and profit-making is not rehabilitation," Amon said. "Donors should recognize that building the capacity of these centers perpetuates injustice, and companies should make sure their contractors and suppliers are not using goods from these centers."
Besides calling on the government of Vietnam to shut down the camps, Human Rights Watch is seeking "an immediate, thorough, and independent investigation into torture, ill treatment, arbitrary detention, and other abuses in the country's drug detention centers." In addition, it wants the government to make public a list of all companies with contracts for detainee labor.
Human Rights Watch also calls on international donors to review their aid to the detention centers to ensure that it is not supporting programs that violate international human rights standards and urges companies working with the detention centers to end all relationships immediately.
"People who are dependent on drugs in Vietnam need access to community-based, voluntary treatment," Amon said. "Instead, the government is locking them up, private companies are exploiting their labor, and international donors are turning a blind eye to the torture and abuses they face."