Florida's new law requiring applicants for the Temporary Assistance to Needy Families (TANF) program to take and pass a drug test in order to receive benefits is being challenged by the American Civil Liberties Union of Florida (ACLUFL). The group filed a class-action lawsuit in federal district court in Orlando Tuesday arguing the new law was unconstitutional and seeking a temporary injunction to block its implementation.

Under the law, which passed Florida's House and Senate in April and May respectively, applicants can be denied public assistance for a year if they fail the drug test and denied for three years if they fail a second drug test. Persons who complete drug treatment can regain eligibility, and the children of people denied benefits can receive funds through a designated trustee.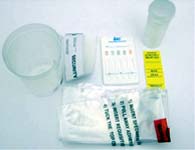 "It's our view that not only is this program unconstitutional and illegal, but it is a public policy that rests on ugly stereotypes," said ACLUFL executive director Howard Simon at a Wednesday morning press conference.
The lawsuit, Lebron v. Wilkins, names a Central Florida man, Luis Lebron, as the lead plaintiff. Lebron, a Navy veteran, single father, and University of Central Florida student who is looking for work, was denied TANF benefits after refusing to submit to a drug test. Lebron, who also cares for his disabled mother, did accounting and payroll work in the Navy and in the private sector before returning to college. He is expected to graduate with an accounting degree in December.
"Florida's new law assumes everyone who seeks public assistance has a drug problem," said Lebron. "They don't know that I'm in school right now so I can get a good job to provide for my son and mother, and it feels like they don't care. I have to prove to them that I'm not breaking the law. It makes me sick and angry that for no reason at all and no suspicion, I have to prove I'm not using drugs. The Fourth Amendment is part of the Bill of Rights, and it says no searches without probable cause."
The pivotal question, Lebron said, is whether the searches are reasonable. "Searches must be based on individualized suspicion," he noted. "In the Navy, I swore an oath to defend the Constitution. Now, I'm asking for the Constitution to defend me."
Florida Gov. Rick Scott (R) championed the new welfare drug testing law, arguing that welfare recipients used drugs at a higher rate than the population at large and that the law would save Florida taxpayers money. A number of
similar bills have been filed in other states
as well, and rumblings of Congressional hearings on the proposal have been heard
inside the Beltway
as well.
But so far the numbers have failed to borne out Scott's claims about welfare recipients or budget savings. A
1996 study
of alcohol and illicit drug use by the National Institute on Alcohol Abuse and Alcoholism found that welfare recipients' use rates to be the same as the population at large. And according to Florida's Department of Children's Services, only about 2% of TANF applicants have tested positive for drugs in the new program so far. At that rate, the state will arguably save a few tens of thousands of dollars each year in a program that is budgeted at $168 million a year. But even those savings are debatable, given that it is difficult to factor in the costs of administering the program -- or defending it against legal challenges or individual claims of false positives.
The one clear winner in the welfare drug testing program is Florida's drug testing industry. Each TANF applicant must take a drug test at a cost of $30-35 and pay for it out of his own pocket. If the test comes back negative, the state reimburses the applicant. The net result is a transfer of funds from the TANF program to drug test providers.
But the ACLUFL lawsuit does not rely on a cost-benefit analysis. Instead, it relies on the argument, vetted in both federal appeals courts and the Florida courts, that suspicionless drug testing violates the Fourth Amendment's proscription against unreasonable searches.

"Our legal claim is straightforward and should come as no surprise to the state of Florida," said Maria Kayanan, the lead attorney in the case. "The only state in the country to try this in the past failed miserably. Throughout the session, legislative staff warned the legislature that this law raised legal challenges."

Kayanan was referring to Michigan, which enacted a law requiring suspicionless drug testing of welfare recipients in the 1990s. That law was overturned as unconstitutional by a federal district court judge in a decision upheld by the US 6th Circuit Court of Appeals.

"This is bad policy, it's a mess, and we hope the court recognizes that suspicionless drug testing absent a clear showing of risk to public safety violates the Fourth Amendment," she said.

Federal courts have held that government-imposed drug testing absent particularized suspicion is unconstitutional except in very limited circumstances. The courts have carved out exceptions allowing drug testing in occupations where the public safety is at risk, for law enforcement personnel involved in drug enforcement, and for high school students engaged in extracurricular activities, but that is as far as the federal judiciary has been willing to bend the Fourth Amendment to date.

"This is a slippery slope," said Randy Berg, executive director of the Florida Justice Institute, which is co-counsel in the case. "While implemented here to go after people in need of public assistance to protect their families, who is next? People who apply to get a fishing license? Contractors who contract with the state? It is very important that people see this as a slippery slope. That is why we have stepped forward to challenge this unconstitutional bill enacted by the legislature."

"After the Michigan law was struck down, a number of states have started rekindling this idea, but Florida was the first state to enact this," said Simon. "But this public policy that the legislature adopted at the urging of the governor is based only on ugly stereotypes and talking points. He keeps saying that taxpayers have a right to know their money is not being used to subsidize drug addiction. But this method is unconstitutional, and we are confident it will be found unconstitutional again."

In response to a question echoing a commonly heard plaint, Simon explained why workers in the private sector must sometimes submit to drug testing when welfare applicants do not.

"The government is bound by the Constitution and private employers are not," he pointed out. "Things that may be appropriate in the private sector are impermissible when done by the government. The governor is also a lawyer, but he must have slept through constitutional law."

"I served my country, I'm in school finishing my education and trying to take care of my son," Lebron said. "It's insulting and degrading that people think I'm using drugs just because I need a little help to take care of my family while I finish up my education."

Now, a federal court in Florida will decide if requiring Lebron to submit to a drug test, is not only insulting and degrading to him, but unconstitutional. With efforts to impose similar laws on welfare applicants and people seeking unemployment benefits underway in a number of other states and possibly Congress, this Florida case will have ramifications reaching far and wide.