In an unusual hearing at the Senate Judiciary Committee October 5, Supreme Court Justice Antonin Scalia criticized the expansion of federal drugs laws, saying the large number of federal drug cases necessitated an expansion of the federal judiciary that had diluted its quality.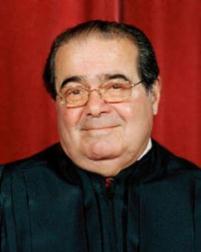 "It was a great mistake to put routine drug offenses into the federal courts," he told the committee, adding that routine drug cases belong in state courts, where the vast majority of criminal cases are heard.
That got words of agreement from committee chairman Sen. Patrick Leahy (D-VT), a former state prosecutor himself.
Scalia's comments came at a hearing in which he and Justice Stephen Breyer discussed with senators the judiciary's role in the US constitutional system. The expansion of federal crimes, including federal drug prosecutions, threatened the "elite" nature of the federal judiciary, Scalia said.
Appointed to the Supreme Court by President Ronald Reagan in 1986, Scalia is the longest-serving justice. He has been described as the intellectual anchor of the court's conservative wing. While not generally friendly to criminal defendants -- he is a staunch defender of the death penalty and a critic of Miranda -- he has defended the right of drug defendants to confront the evidence against them by forcing lab techs to testify and he authored the majority opinion holding that warrantless infrared searches violated the Fourth Amendment. He was also a key figure in the court's Apprendi, Blakely and Booker rulings which led to federal sentencing guidelines being declared advisory rather than mandatory.