In a decision that advocates warn could cripple the industry, the Internal Revenue Service (IRS) has ruled that Oakland's Harborside Health Center cannot deduct standard business expenses on its taxes and sent the dispensary a whopping $2.5 million tax bill.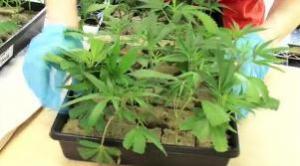 Most businesses are able to deduct standard business expenses, such as rent and payroll, from their federal tax bill, but
Harborside
chief financial officer Luigi
Zamarra
told the
Bay Citizen
the IRS had determined the dispensary cannot deduct standard business expenses because it is involved in "the trafficking of controlled substances."
Harborside
is the largest medical marijuana dispensary in the country, with more than 83,000 members, and pulled in $22 million in sales last year. It has already paid the IRS $500,000 in taxes for 2007 and 2008, the years for which the agency now claims it owes the additional $2.5 million.
Although the IRS is happy to take
Harborside's
money, the federal government considers marijuana nothing more than a Schedule I controlled substance. The IRS attack on
Harborside
is part of an Obama administration assault on medical marijuana distribution using the regulatory apparatus of a number of federal agencies, ranging from the Treasury to the DEA.
Harborside
said it would appeal the ruling and warned that if it stood, the entire medical marijuana dispensary industry could be endangered.
"We can't live with the conclusions that the IRS has come to and neither can the industry,"
Zamarra
said. "If the IRS ultimately prevails, we would close our doors and go away because the business model wouldn't work," he said.
Ironically, on the same day it announced the adverse IRS ruling,
Harborside
also announced it had paid the last installment of its $1,081,450 tax bill to the city of Oakland, which collects a 5% tax on dispensaries.