In an orchestrated strike Tuesday, DEA agents raided at least 14 medical marijuana dispensaries in the Seattle area, according to the locally based Cannabis Defense Coalition. The raids hit dispensaries in King, Pierce, and Thurston counties, including three operating inside the Seattle city limits.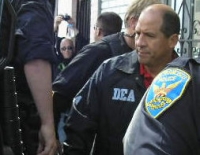 US Attorney Jenny Durkan said Tuesday afternoon the dispensaries were raided because they were suspected of violating Washington's medical marijuana laws, which do not explicitly provide for dispensaries. The state legislator had passed a bill to do that earlier this year, but Gov. Christine Gregroire (D) vetoed it, citing fears it would subject state employees to federal prosecution after being warned of just that by federal prosecutors.
"We will not prosecute truly ill people or their doctors who determine that marijuana is an appropriate medical treatment," Durkan said in a statement. "However, state laws of compassion were never intended to protect brash criminal conduct that masquerades as medical treatment."
Multiple arrests were reported, including at least 17 in Thurston County, but a final tally is not yet in.
The DEA Seattle office also issued a statement Tuesday: "The DEA will exercise its investigative authority to pursue criminal actions for any violation of federal law, when warranted. This includes investigating organizations or individuals that grow, manufacture, or distribute illegal drugs to include marijuana, and those who rent or maintain a property to facilitate drug trafficking."
The Justice Department's offensive against medical marijuana distribution has just broadened… again.