Initiative 502, the Washington state initiative to tax and regulate marijuana, is gaining both financial and political support. In the past week, the effort has picked up some important endorsements from former law enforcement figures, and a good sized cash contribution that will invigorate its signature-gathering efforts.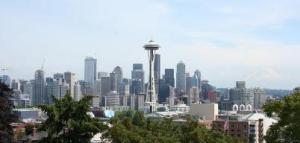 The initiative is sponsored by
New Approach Washington
, which hopes to gather sufficient signatures to put the measure before the legislature in January. If the legislature fails to approve it, it would then go before voters in November 2012.
In a
joint statement
that appeared as an op-ed in the Seattle Times, former US Attorney for Western Washington Katrina Pflaumer, former Seattle deputy mayor and municipal court Judge Anne Levinson, and retired state Superior Court Judge Robert Alsdorf announced they were endorsing I-502. Another former US Attorney for Western Washington, John McKay, endorsed the effort earlier.
"We have not only observed but also enforced marijuana laws at the federal, state, and local levels," wrote the trio of legal establishment figures. "We ask that these laws be changed. It is time for a different, more effective approach. That's why we endorse Initiative 502, which would decriminalize marijuana in our state and make a long-overdue change for the better in public policy."
Regulating marijuana would allow state and local governments to refocus criminal justice system resources on more serious offenses and would generate hundreds of millions of dollars in tax revenues, the trio argued. It would also restore respect for law enforcement and "decrease the disproportionate criminalization of people of color who have historically been harmed most by the existing laws," they wrote.
On Monday, yet another former law enforcement figure climbed aboard. Charles Mandigo, former Special Agent in Charge of the Seattle FBI office, issued a
statement
announcing he was endorsing the initiative, if not the drug itself.
"I do not support or condone the use of marijuana. Rather, I think it is time for us to try a regulatory approach that frees criminal justice resources for more appropriate priorities and strikes a better cost-benefit balance than the strategy we've been pursuing for the past 40 years," he said in the statement.
"It concerns me a great deal that our minority communities are over-represented among marijuana defendants, and that 40,000 have died in Mexico in the past four years due to fighting over control of drug trafficking to the United States, a significant part of which involves marijuana," the 27-year FBI veteran added.
The new law enforcement endorsements come as the campaign is enjoying a late surge in financial support. Campaign director
Alison Holcomb reported
at the beginning of the month that it had just received a $100,000 donation from philanthropist Harriett Bullitt, had earlier received $50,000 from Progressive Insurance chairman Peter Lewis, and expected Lewis to kick in another $200,000 this month.
New Approach Washington has already collected more than 180,000 of the 241,000 valid signatures in needs to go before the legislature. It has until year's end to collect the rest, and the big name endorsements and donations are putting that goal within reach.
Not that everyone in the Washington state marijuana community is happy about that. The folks at
Sensible Washington
, who were twice unable to raise the money to gather enough signatures to make the ballot for their marijuana prohibition repeal initiative, are not supporting I-502, in part because it contains
"a bitter pill"
imposing per se drugged driving limits.
Sensible Washington is not alone in that criticism. Segments of the state's medical marijuana community also worry that the initiative's drugged driving provision could end up penalizing them.
Dr. Gil Mobley, who runs a Federal Way clinic catering to medical-marijuana patients, told the
Seattle Times
he recently tested several patients and found they passed cognitive tests even with THC concentrations of up to 47 nanograms. Nearly four hours after one patient medicated, they still tested at 6 nanograms. The initiative would set the per se level at 5 nanograms.
"I told them they'd be legally unable to drive if this law passes," said Mobley. "It's philosophically, morally and legally wrong."
And Nora Callahan of the
November Coalition
, a drug reform group that concentrates on drug war prisoners is also unenthusiastic about I-502. It would be "continuing prohibition," she said. "We want a law for the people. I don't know if this law cuts it. But we know there is money behind it."
I-502 supporters have countered the criticisms, saying the drugged driving provision would be rarely used and that signs of impairment would first have to be evident. They also point to states with per se drugged driving laws, noting there has not been a rash of prosecutions in them. And they argue that if an initiative is going to have a chance with voters concerned about the prospect of highways filled with stoned drivers, it must be pragmatic and address those fears.
New Approach Washington has created a
fact sheet on driving under the influence of THC
in a bid to defend the drugged driving provision. It notes that Washington already has a per se DUI law for alcohol, and that its proposed per se marijuana-impaired driving level of 5 nanograms of THC per millileter of whole blood is both "analagous" to the per se DUI law for alcohol and supported by existing science.
"I-502 does not change the fact that officers still must have probable cause for arrest and reasonable grounds to believe a driver is impaired before requiring a blood or breath test," the fact sheet says, addressing concerns that large numbers of drivers could be charged under the provision. "Nor does it change the fact that blood tests can only be administered by medical professionals."
Pot activist-turned-journalist Dominic Holden sharply criticized the friendly fire against I-502 coming from within the movement. In a column published in the
Seattle Stranger
, Holden wrote, "[I]t's dishonest to declare this this measure will subject people to more blood testing or result in a change of policing protocol. If voters pass I-502, 02, officers would be held to the same standards as they are today: They would still require probable cause to stop a car, evidence of driver impairment, and any tests would have to be conducted by a medical professional (typically at a medical clinic or an ER). Those are the standards now, they wouldn't change, and we hardly ever see those consequences for medical marijuana patients now because
they aren't impaired
and cops don't have probable cause to stop their vehicles. If cops didn't have probable cause or evidence of impairment, but took action anyway, a defense attorney could move to have the whole thing tossed out -- just like today."
Holden also cited polling for the campaign finding the initiative winning with the provision vs. losing badly without it. According the polling, Holden wrote, 62% of respondents were more likely to vote for an initiative with that provision, vs. 11% less likely.
New Approach Washington may not have succeeded in uniting all of the state's marijuana movement behind it, but it is getting enough big names and big bucks to have a very good shot at making the signature-gathering threshold. And if the campaigners and their polling are correct, they will then have a good shot at victory at the polling booth in November 2012 -- if the legislature doesn't approve it first.