Michigan Attorney General Bill Schuette (R) has opened another front in his battle against medical marijuana. In an official opinion released last week, Schuette said police are not required to return medical marijuana seized from patients in compliance with state, even though the state's voter-approved Michigan Medical Marijuana Act demands they do so.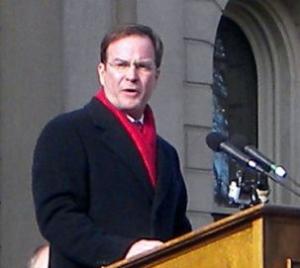 Police risk running afoul of the federal Controlled Substances Act if they comply with state law by returning marijuana to patients lawfully in possession of it under state law, Schuette wrote.
"By returning marijuana to a registered patient or caregiver, a law enforcement officer is exposing himself or herself to potential criminal and civil penalties under the (federal law) for the distribution of marijuana or for aiding or abetting the possession or distribution of marijuana," the opinion stated.
The provision of the Michigan Medical Marijuana Act that requires police to return patients' pot "directly conflicts with and is thus preempted by the federal Controlled Substances Act to the extent [it] requires a law enforcement officer to return marihuana to a registered patient or primary caregiver upon release from custody," Schuette added in the opinion.
Schuette's move was immediately blasted by medical marijuana supporters. "I can't believe the AG absolutely refused to honor his own state law, citing preemption by federal mandate," Rick Thompson, editor of Michigan Medical Marijuana magazine told the
Detroit News
. "Who does this man work for? The citizens of Michigan, or US Attorney General Eric Holder?"
The opinion is just Schuette's latest move against the Michigan Medical Marijuana Act. As an appellate judge, he led the campaign against it in 2008. Since being elected attorney general last year, he has filed numerous briefs supporting prosecutors who have interpreted the act narrowly.
"There is a pattern here of him trying several things to make the law so restrictive or prohibitive so that people can't participate," Jamie Lovell of the 3rd Coast Compassion Center in Ypsilanti told the News.