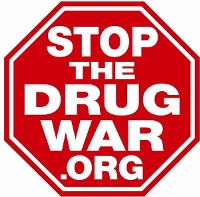 Last week we asked StoptheDrugWar.org readers to help us make some important decisions about what our organization can financially afford to do as the fight to stop the drug war enters its most critical moment to date. If you didn't see or would like to review last week's appeal, discussing what we need your support for and why it's so important for drug policy reform right now, you can
find a copy here
.
Since we sent that letter, more than 40 supporters have donated or pledged more than $6,500 for our work. Thank you!
One of the two specific decisions mentioned was whether we can continue using the high-powered legislative and email list service that has helped us so much the past two years. Along with reliably delivering email to all our subscribers -- a tough job in this time of spam and false spam positives -- this system is what's powered our major new
Legislative Center
. If you haven't already, please visit this compilation of hundreds of federal and state bills and votes, legislator scorecards, media and voter registration tools and more.
To know that we can responsibly afford this service another year, we need to raise another $3,500 between now and Monday. If you haven't already donated to this campaign, would you make a generous donation today for this or other StoptheDrugWar.org programs?
Some of you may not be familiar with the ways this type of service helps our work -- here are a few of them:
It gets thousands of emails on important drug policy issues to members of Congress. While lobbying visits and individually written letters are the most important types of contacts to make, the emails get counted, and if we don't get them there, our opponents will.
The letter-writing action alerts get forwarded by our supporters to lots of other people, who sign up to our list through them -- a highly effective way of growing the organization and the movement.
It lets us publish federal and state bills and votes -- hundreds of them so far -- categorized by issue, creating a clearinghouse of legislative intelligence gathering on what good trends there are that we can support, what the bad trends are that need to countered and where, who our allies and opponents are.
It lets readers like yourself and others look up who your legislators are, how they voted on bills that we've highlighted, who the current candidates are for public office, how things are looking in your and other states. It even lets people look up where to send letters to the editor, and provides help in registering to vote.
The system delivers our alerts and newsletters to you reliably, as I mentioned above, a tough job these days.
The fight to stop the drug war has entered its most critical moment to date: Support for marijuana legalization has reached 50 percent. Heads of state including the current presidents of Mexico and Colombia have called for alternatives to drug prohibition to be considered. Leading civil rights groups have called for an end to the war on drugs in its current form. And yet -- and yet -- the federal government under President Obama has escalated its campaign to crush California's medical marijuana industry to its broadest and most aggressive level yet.

We need your help to decide whether StoptheDrugWar.org -- our movement-building work; our organizational coalitions; our leading online publications like the Drug War Chronicle newsletter that keep the movement, journalists, policymakers and countless others informed and empowered -- can enter this historical moment at full strength. Will you step up today in meeting both the crisis and the phenomenal opportunities? Please make a generous donation to StoptheDrugWar.org -- non-deductible for our lobbying work, or tax-deductible for our educational work -- to help us make these decisions the way they should be.

Donations to our organization can be made online at http://stopthedrugwar.org/donate, or they can be mailed to: DRCNet Foundation (tax-deductible), P.O. Box 18402, Washington, DC 20036; or Drug Reform Coordination Network (non-deductible for lobbying), same address. (Contact us for information if you wish to make a donation of stock.)

Thank you for standing with us to stop the drug war's cruelties and meet the opportunity this time offers to make a brighter future. And don't get discouraged by the challenges our movement and the cause are currently facing -- time is on our side!