It was nice while it lasted, but it didn't last long. On May 17, in a pair of press releases (here and here), Willie Nelson's Teapot Party and the campaign of Republican presidential contender Gary Johnson announced the Teapot Party's endorsement of Johnson. The next day, Willie changed his mind.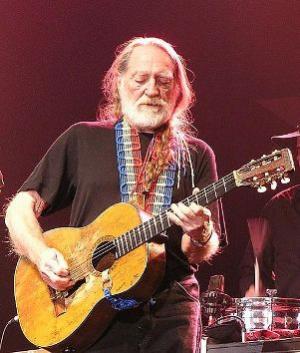 In a
Teapot Party blog post
, Steve Bloom of
Celebstoner.com
, who had played a key role in setting up a meeting between Nelson and Johnson ten days ago and who played a similar role in getting the campaign and the party to announce the endorsement, explained what happened. After the Texas meeting, Willie sent an email to Bloom saying, "I think we ought to endorse him."
That email was the basis for the twin announcements Tuesday. But when Bloom sent the press release and media coverage links to Nelson, he got a surprise.
"My position is it too early for me to endorse anyone," Willie responded. "And I think everyone should vote their own conscience."
Bloom replied, reminding Willie that he had okayed the endorsement.
"I know I said that," Nelson responded. "But I think I will wait and see where he stands on other things. My bad. Sorry. I still think he is a good guy, but so is Dennis [Kucinich] and if he decided to run I would personally vote for him. If it came down to either him or Gary I'm already committed to Dennis. They both have said they support legal pot."
When Bloom replied, reminding Nelson that the Johnson endorsement was only for the Republican nomination, Willie again demurred.
"The Teapot Party is millions of people," he replied. "It's not me. I jokingly said after I got out of jail in Texas that there is a Tea Party and there should be a Teapot Party. The difference between us is we follow our own drummer. No one can tell us how to think. If we back someone, that's us telling them how to vote. I'm not qualified. You can say or do anything you like and I will do the same but let's don't back a political candidate. Let's give our opinions and say what we know about everyone but let's let everyone decide for themselves."
What's next, then? Bloom asked Nelson.
"I still say that the people have the power to change things and they will if they vote," Nelson replied. "The Teapot Party started as a joke but it could still be a way for people to speak out about important things. I am not a criminal. The millions of pot smokers in this country are not criminals. We don't like being treated as such and I for one will stand up for what I believe in and will vote for anyone I choose. You should do the same. We are not ever going to agree on everything and everybody. The best advice I ever got was from my ex father-in-law. He said take my advice and do what you want to. End of story."
Bloom reported one more email from Nelson: "This will blow over and the world moves on. No harm done. We sound like a bunch of pot smokers, that's all... The more I get into politics the more I realize that I am a guitar player."
(This article was published by StoptheDrugWar.org's lobbying arm, the Drug Reform Coordination Network, which also shares the cost of maintaining this web site. DRCNet Foundation takes no positions on candidates for public office, in compliance with section 501(c)(3) of the Internal Revenue Code, and does not pay for reporting that could be interpreted or misinterpreted as doing so.)