A 21-year-old Fall River, Massachusetts, man died last Friday afternoon shortly after police executing a search warrant in a drug investigation entered his apartment. It was the 13th death to occur during a drug law enforcement operation so far this year in the US, and the third in Massachusetts.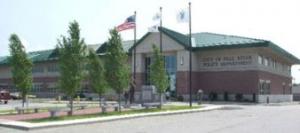 Police told the
Fall River News
that detectives with the Vice and Intelligence Unit were executing the search warrant when they encountered the man. As for the circumstances of his death, police said only that "detectives located the man and at some point he went into cardiac arrest." At some point, police called paramedics, but he was later pronounced dead at Saint Anne's Hospital.
Police did not name the man, but a poster in the comments section of the article linked to above identified him as Dennis Mendez, 21. The anonymous poster, writing under the user name
Kei24
, appeared to say that Mendez had tried to swallow drugs and choked to death as police stood and watched.
"My brother was struggling to get away from the police,"
Kei24
wrote. "He wasn't fighting them they did find somethin but no one was charged... we was begging the police to help him because his hand, feet and lips were purple and they just kept saying that he was fine and the drugs that he was trynna swallow was pulled out of his mouth once paramedics got there my brother was dead in less then 2 mins that the police broke down the door they just made jokes about it and were saying he was fakin it... He was human just like the rest of us and they treated him like a dog."
But in a Tuesday interview with
WPRI Eyewitness News
, Mendez' sister, Keila Lebron (
Kei24
), said that while Mendez had swallowed crack cocaine, that's not what killed him. "She claims officers immediately began beating him, and Mendez lost consciousness," the station reported.
Fall River Police said the Massachusetts State Police Major Crimes Division, the District Attorney's Office, and the State Medical examiner will conduct an inquiry into the death.