Public support for marijuana legalization continues its upward trend and has "never been higher," according to a new poll from the Pew Research Center for the People and the Press. The poll had support for marijuana legalization at 45%, up four points from the same poll a year earlier.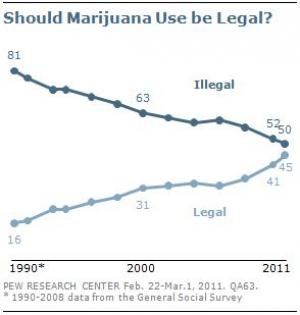 Half of respondents (50%) still opposed legalizing pot, but that number is down two points from last year and continues a two-decade long trend of declining opposition. In 1990, 81% opposed legalization; by 2000, that number had declined to 63%, and has continued to drop since then.
The upward trend line for legalization and the downward one opposing legalization are nearing the convergence point, and support for legalization will soon surpass opposition, if current trends continue.
Pro-legalization sentiment was strongest among 18-to-29-year-olds (54%), Democrats (53%), and people with some college education (50%). Among liberal Democrats, support rose to 66%.
Keeping marijuana illegal got the strongest support from Republicans (67%) and people over 65 (66%), and women (54%). Men were evenly divided on the issue.
The new Pew poll is in line with other polls in recent years showing a steady increase in support for marijuana legalization, but that we're not quite there yet nationally. Still, we are getting tantalizingly close. You can review our archive of Chronicle articles about polls
here
.