A bill that would have given 90% of the proceeds from seized cash and goods to local prosecutors and law enforcement agencies involved in the case has been vetoed by Gov. Mitch Daniels (R). The remaining 10% would have gone to the Common School Fund.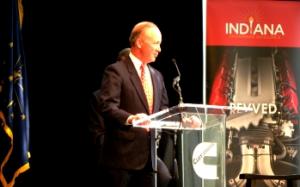 Under the Indiana constitution, all proceeds from seized items must go to the Common School Fund, but county prosecutors and law enforcement agencies have found
several means of skirting the law
. Some county prosecutors have contracted out asset forfeiture cases to private attorneys, leading to lucrative pay-outs to lucky litigators. Others have claimed ludicrous law enforcement "expense of collection" costs to justify keeping hold of their looted lucre.
In vetoing
Senate Enrolled Act 215
, Gov. Daniels said paying out 90% of every forfeiture dollar to police and prosecutors for "expense of collection" was improper. "That is unwarranted as policy and constitutionally unacceptable in light of the Supreme Court's recent guidance and the plain language of Article 8, Section 2 of the Indiana Constitution," Daniels said in his
veto message
.
On April 27, the state Supreme Court reaffirmed that asset forfeiture funds must be paid to the Common School Fund. But two days later, the Republican-led General Assembly voted to approve the change in asset forfeiture distribution anyway.
Now, Gov. Daniels has stood up for Indiana schoolchildren -- and the rule of law -- in the face of the law enforcement lobby and despite the wishes of his own Republican peers.