In a unanimous ruling Thursday, the US Supreme Court upheld a 10-year federal prison sentence for possession of cocaine base, rejecting an appeal that harsher penalties for crack cocaine did not apply to "cocaine base." The case was DePierre v. US, and it concerned the 1986 Anti-Drug Abuse Act, passed at the height of mid-1980s crack hysteria.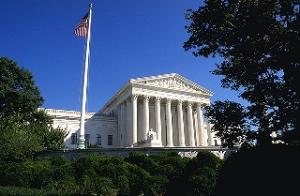 Under that law, possession of 50 grams of "cocaine base" was punishable by a 10-year mandatory minimum prison sentence, while it took five kilograms of powder cocaine (cocaine hydrochloride or "cocaine salts") to garner the same sentence. While those penalties have been imposed almost exclusively on crack cocaine offenders, the words "crack cocaine" do not appear in the law. Instead the harsher penalties are imposed on those who possess substances or mixtures containing "cocaine base."
Frantz DePierre got busted for selling more than 50 grams of "cocaine base" to an undercover agent in Massachuseets in 2005. At trial, a federal judge rejected his request to instruct the jury that "cocaine base" meant only crack cocaine, and a federal appeals court in Boston agreed with the trial judge. And now the US Supreme Court has endorsed those lower court rulings.
"Cocaine base," as used in the 1986 law, "means not just 'crack cocaine,' but cocaine in its chemically basic form," Justice Sotomayor held, as the court upheld DePierre's conviction and 10-year prison sentence. That basic form includes "the molecule found in crack cocaine, freebase, and coca paste," she continued. "On its plain terms then, 'cocaine base' reaches more broadly than just crack cocaine.
While Congress last year voted to substantially reduce -- although not eliminate -- the sentencing disparities between crack and powder cocaine, crack still earns you substantially more time than powder. And this ruling clarifies that those stiffer penalties apply to freebase and coca paste, as well as crack.