Camden, New Jersey, is about to force businesses to close down during late-night hours in a bid to reduce street-level drug dealing. An earlier version of the plan targeted only take-out restaurants, but the current version would allow only gas stations and bars to stay open, and the gas stations could only sell gas, not food or any other items.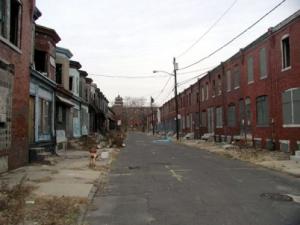 In remarks reported by the
Philadelphia Inquirer
, city officials said the earlier version of the plan was tabled over fears it discriminated against the take-out restaurant. Under the new proposal, McDonalds and the local Chinese take-out would have to play by the same rules, they said.
"When you get into exemptions, where do you stop?" said City Attorney Mark Riondino. "That's where we got into problems" with the earlier version.
The move is a bid to reduce drug dealing in the poverty-stricken, crime-ridden city. Neighborhood leaders complained that some late-night take-outs attract more people seeking drugs than Chinese food or fried chicken, especially along Mount Ephraim Avenue, in one of the city's tougher neighborhoods.
Police say that drug customers from neighboring towns often become crime victims near the late-night establishments. They cited two cases of car theft at gun or knife-point in recent weeks in the 1500 block of Mount Ephraim Avenue, where a Crown Fried Chicken and a handful of Chinese take-outs have late-night hours.
But the owner of Crown Fried Chicken, which is open 24 hours, said the proposed business curfew was bad news. "This is very bad for us, for the business, and very bad for Camden," said Ali Khan.
When asked if crime was a problem outside his restaurant, Khan acknowledged that the streets of Camden can be tough, but said it wasn't his restaurant's fault. "There are a lot of situations in Camden," he said. "Before Crown Chicken, was there no crime, no shootings?"
The Camden City Council will vote on the proposal Tuesday, but it's difficult to see how curbing businesses in a recession-wracked city is going to help anything.