Canadian marijuana legalization activist Marc Emery has contracted a "superbug" while serving a US federal prison sentence for selling marijuana seeds, his wife, Jodie, told local media Sunday. Emery has been diagnosed with MRSA (Methicillin-Resistant Staphylococcus Aurea), a painful infection that appears on the skin.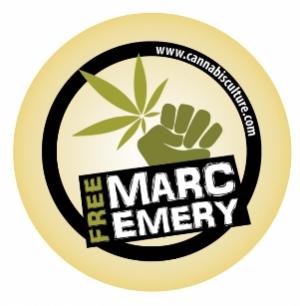 MRSA is widespread among US jail and prison populations
with hundreds of reports of outbreaks being reported in the past decade. Some cases develop into necrotizing fasciitis, also known as "the flesh-eating disease." The US Bureau of Prisons has released
guidelines
for the management and control of the disease, which does not respond to many common antibiotics. For more information on the disease in the American gulag, visit the
MRSA Infections News and Information web page on MRSA in jails and prisons.
Ironically,
Technology Review
reported last fall that chemicals found in marijuana plants "could soon outshine conventional antibiotics in the escalating battle against drug-resistant bacteria. The compounds, called cannabinoids, appear to be unaffected by the mechanism that superbugs like MRSA use to evade existing antibiotics," the Review noted, citing recently published scientific research.
Jodie Emery said Emery's MRSA problem began when he was bitten by a brown recluse spider while serving time at a Georgia prison, and the bite took months to heal. He was treated with antibiotics, but developed a painful boil while being transferred by bus to another prison in Mississippi. When prison doctors tested the boil, they discovered the MRSA infection.
"I was worried sick to hear it," she said, adding that he was forced to fight the bug without medication. The infection has stabilized, but Emery is still infected, she said. "I'm still very concerned. He has to be extra vigilant with any cuts or scrapes."
Emery, who made a small fortune selling pot seeds but gave most of it away to legalization activists in Canada and around the world, was sentenced to five years in prison in September 2010 after being extradited from Canada. A recent bid to serve the remainder of his sentence in his home country was rejected by prison authorities. He can try again in a little under two years.
In a Monday interview with the magazine he founded,
Cannabis Culture
, Emery said that while his infection was "definitely a concern," he was currently healthy and feeling fine.