An initiative that would have legalized marijuana in Washington state will not be on the November ballot after organizers Sensible Washington said last week that they had been unable to gather sufficient signatures with their all-volunteer campaign. That's two years in a row that Sensible Washington has come up short in signature-gathering campaigns.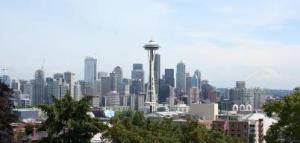 The initiative,
I-1149
, would have simply removed all criminal and civil penalties related to marijuana and left it to the legislature to come up with a regulatory scheme. It would have created new criminal penalties for pot smokers under age 18 and the people who sold it to them.
"It is with heavy hearts but undiminished resolve that we report that we did not reach our signature gathering goal for I-1149," Sensible Washington said in a
blog post
. "Simply put, we did not have enough boots on the ground to make it happen."
Relying on volunteer signature-gatherers is always difficult, the group said, and more so during a cold, rainy spring before an off-off-year election.
"We cannot escape the need for at least some level of paid signature gathering," the group said. "As in 2010, we could very easily have garnered the necessary support from the public -- if only we'd had the money. Fundraising needs to be our top priority in the coming months. A full postmortem on the 2011 campaign will be conducted soon, but this much is already obvious."
The Sensible Washington signature drives failed at least in part because the group was unable to bring major state and national players on board. Last year, the
ACLU of Washington
opposed the initiative, and this year, the group is part of a coalition called
New Approach Washington
that is campaigning to place
a marijuana regulation initiative
on the November 2012 ballot.
That initiative is not as radical as I-1149. It would see commerce in marijuana licensed through the state liquor board, would maintain the current ban on personal cultivation except for patients, and includes a drugged driving provision that assumes anyone with a blood concentration of more than 5 nanograms per milliliter is driving under the influence.
The New Approach Washington initiative has won broader backing, both statewide and nationally than the Sensible Washington initiative. It has until December 30 to gather the 241,153 valid signatures needed to make the 2012 ballot.