Twin initiatives that would regulate marijuana sales and production and legalize the possession of pot by adults were filed with the state Secretary of State's office Wednesday. The initiatives were filed by a new coalition called Show-Me Cannabis.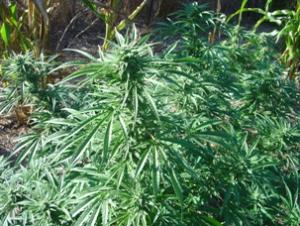 One of the initiatives would amend the state constitution; the other would revise state statutes. The Secretary of State's office has a month to approve their language. Once one or both are approved, signature gathering aimed at putting the initiative on the November 2012 ballot could get underway.
The initiative would:
Remove marijuana from the state's schedule of controlled substances;
Legalize marijuana possession by adults over 21 (no amount specified);
Legalize the cultivation of up to 100 square feet of marijuana for personal use;
Allow for licensed commercial marijuana cultivation and sales;
Allow the legislature to enact a tax of up to $100 a pound on marijuana sold for personal use;
Allow for medical marijuana use with a doctor's recommendation and apply protections to doctors and patients;
Allow employers to fire workers who are impaired on the job;
Make no changes to impaired driving laws; and
Allow for the production of industrial hemp.
"The state presently spends millions of tax dollars incarcerating citizens who use cannabis, depriving those imprisoned of the ability to earn a living, pay taxes and care for their families," said initiative backer Fred Raines, Professor Emeritus of Economics at Washington University. "Meanwhile, the law of supply and demand continues to support an unending criminal enterprise. The social and economic costs of prohibition continue to far outweigh any benefits. It's time we acknowledge that and move forward."

Also backing the campaign are the Missouri affiliate of the National Organization for the Reform of Marijuana Laws, NORML chapters in St. Louis, Kansas City, Joplin; the MU campus in Columbia, the MSSU campus in Joplin, Students for Sensible Drug Policy, and the medical marijuana group Sensible Missouri.

Missouri is now at least the sixth state where efforts to get marijuana legalization on the November 2012 ballot are underway. The others are California, Colorado, Massachusetts, Oregon and Washington.