Berwyn Heights Mayor Cheye Calvo's lawsuit against Prince Georges County, Maryland over a 2008 SWAT raid in which his two dogs were shot dead and he was held at gunpoint is over. Calvo told the Washington Post Monday that a settlement had been reached, but declined to comment on the settlement amount or other details, which are still being worked out.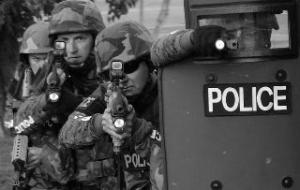 Calvo did say that the settlement will bring reforms in the way the county conducts drug raids. How and when SWAT teams are deployed and the humane treatment of pets are among the areas where reforms will occur, he said.
"We're achieving the reforms we were seeking," Calvo said.
A civil trial in the lawsuit was set to begin Monday. The county had no comment as of Monday afternoon.
Calvo's home was raided in July 2008 by Prince Georges Sheriff's SWAT officers
who were assisting county police narcotics investigators. Police had been tipped that a package being shipped to Calvo's address contained marijuana. They intercepted the package, delivered it to Calvo's porch, then broke down the door after Calvo, returning from walking his dogs, picked up the package and took it inside.
SWAT officers shot and killed Calvo's two dogs and kept the mayor handcuffed and kneeling on the ground. But it turned out that Calvo had nothing to do with the marijuana, which was being shipped to the addresses of unwitting people to be picked up off their porches by pot dealers before they got home.
Calvo's lawsuit alleged that the SWAT team failed to "knock and announce" their presence before raiding the house and that the county was too loose in its usage of the SWAT team. He also accused the sheriff's department of having no policy for dealing with pets in a home being raided.
Calvo filed suit after the sheriff's department declared itself exonerated following an internal investigation. That and the raid itself were "business as usual" for Prince Georges County, Calvo wrote in
a 2009 Washington Post op-ed
. That's what prompted him to file the lawsuit, on the same day as the county's announcement. Calvo also successfully lobbied for passage of a statewide
SWAT reporting bill
.
Here's hoping there really is no more of that sort of "business as usual" in Prince Georges County. And here's thanking Cheye Calvo for standing up to official oppression.