A year and a half ago, the Bolivian government of President Evo Morales formally requested an amendment to the United Nations Single Convention on Narcotic Drugs to remove the ban on coca leaf chewing and bring the treaty in line with the 2007 UN Declaration on the Rights of Indigenous Peoples. Now, with the deadline to contest that amendment drawing near, the International Drug Policy Consortium (IDPC) is reporting that the US and other Western countries are mobilizing to kill the amendment. The IDPC is calling on those countries to abstain from blocking the amendment.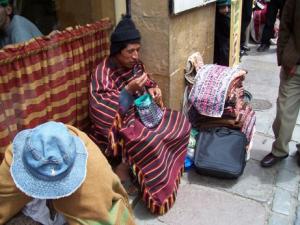 There are only two weeks before the January 31 deadline. According to the IDPC, the US, Britain, Colombia, Denmark, France, Germany, Italy, Japan, Russia, and Sweden are all planning to try to block the amendment. The IDPC characterizes the move as trying "to stop the right of Bolivians to express their own culture."
Washington made it official Tuesday. An anonymous "senior US official" told the
Associated Press
the US would file a formal objection to the request. "We hope a number of other countries will file as well," he said.
While coca is the raw material from which cocaine is made, it is also a plant that has been used by the indigenous peoples of the Andes for thousands of years. It is valued for its mild stimulant and hunger-suppressing effects. Bolivia is the world's third largest producer of coca, behind Peru and Colombia.
"Coca leaf chewing is one of the socio-cultural practices and rituals of the Andean indigenous peoples. It is closely linked to our history and cultural identity," President Morales wrote in a letter to the UN seeking the amendment. This traditional practice "cannot and should not be prohibited," he added.
"At a time when drug prohibition has enriched and emboldened criminal cartels to such an extent that they are attempting to violently annex the state in parts of Mexico and Guatemala, the US is expending considerable effort in blocking the Bolivian government's legitimate and democratic right to protect and preserve a harmless indigenous practice," said British MP Jeremy Corbin, secretary of the All Party Parliamentary Group on Bolivia. "The international community needs to get its priorities right and resist this culturally ignorant attempt to dictate to indigenous people in Bolivia."
And someone needs to tell Washington.