It's a Texas trifecta this week, plus a Nashville cop buying guns for the cartels, an ATF agent with sticky fingers, and an upstate New York cop with several bad habits. Let's get to it: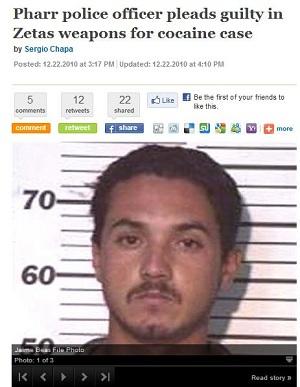 In Nashville, Tennessee,
a former Nashville police officer was found guilty December 20
of lying when purchasing weapons he intended to smuggle to Guatemala. Edwin Ronal Morales was one of five people indicted in 2009 on charges of conspiring to illegal purchase weapons to be smuggled to Guatemalan drug traffickers. He was found guilty of two count of making false statement for falsely representing himself as the actual buyer when he was really giving the guns to a codefendant to be smuggled out of the country. He faces up to 10 years in prison on each count.
In Beaumont, Texas,
two Beaumont police officers pleaded guilty December 22
to misdemeanor charges of tampering with government records for leaving a confidential informant's name out of statements and testimony. Officers Brad Bealieu and Eric Heilman also had their peace officer's licenses suspended for six months.
In Cleveland, Ohio,
a Bureau of Alcohol, Tobacco & Firearms agent pleaded guilty December 22
to stealing money in an October drug raid. ATF Agent Steven Campbell was part of team raiding a marijuana dealer in nearby Lyndhurst when he began stuffing cash into his pockets. A DEA agent on the raid turned him in. When confronted, Campbell insisted the only cash he had was his, but when he struggled to resist being handcuffed, $46,000 fell out of his pockets.
In McAllen, Texas,
a former Pharr police officer pleaded guilty December 22
to being on the payroll of the Mexican drug cartel the Zetas. Former officer Jaime Beas, 33, had been arrested in a July sting in which he thought he was trading cocaine for high-powered weapons and body armor destined for the Zetas. He lived in a house owned by a Zetas member. The house and four luxury cars were seized by authorities. He pleaded guilty to an organized crime charge.
In McAllen, Texas,
a former McAllen police officer was sentenced December 21
to 27 years in federal prison for drug trafficking conspiracy. Former officer Francisco Meza-Rojas had led a group that smuggled cocaine and pot into the Rio Grande Valley, but after being arrested in 2006 broke out of jail and fled to Mexico until he was arrested in July. He had pleaded guilty earlier this year to conspiracy to possess cocaine and marijuana with intent to distribute.
In Niagara Falls, New York,
a former Niagara Falls police officer was sentenced December 22
to nearly 14 years in prison for tipping off drug dealers to police investigations, buying crack cocaine on duty, and groping a woman he had pulled over. Former officer Ryan Warme had pleaded guilty in April to three felonies in exchange for a 10-year sentence, but got additional time added on after admitting threatening a prisoner who was set to testify against. He pleaded guilty to deprivation of civil rights under color of law, using and carrying his Niagara Falls Police Department-issued pistol during a drug transaction and conspiracy to distribute more than five grams of crack cocaine.
In Shakopee, Minnesota,
a former Carver County sheriff's detective was sentenced December 28
to six months in jail for stealing methamphetamine from the department's evidence vault in Chaska. Daniel Kahlow, an 18-year-veteran, went down after authorities noticed the drugs had been tampered with and saw him entering the vault in a surveillance video. He admitted ripping off the meth for his personal use and told investigators he had been smoking meth for about a year. Kahlow copped a plea to second-degree possession of meth. He begins serving his sentence this month.