by Bernd Debusmann, Jr.

Mexican drug trafficking organizations make billions each year smuggling drugs into the United States, profiting enormously from the prohibitionist drug policies of the US government. Since Mexican president Felipe Calderon took office in December 2006 and called the armed forces into the fight against the so-called cartels, prohibition-related violence has killed more than 30,000 people, including more than 13,000 last year. The increasing militarization of the drug war and the arrest of dozens of high-profile drug traffickers have failed to stem the flow of drugs -- or the violence -- whatsoever. The Merida initiative, which provides $1.4 billion over three years for the US to assist the Mexican government with training, equipment and intelligence, has so far failed to make a difference. Here are a few of the latest developments in Mexico's drug war: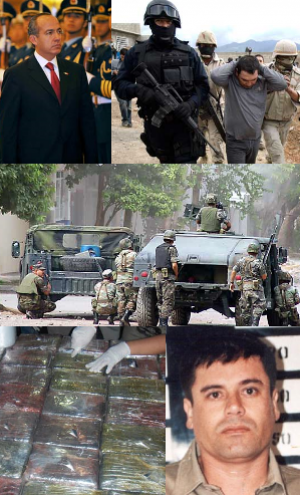 Friday, December 24
In Ciudad Juarez,
nine people were killed
on Christmas Eve. Among the dead were three men who were shot at a bar within sight of the international bridge to Ciudad Juarez.
Sunday, December 26
In Urique, Chihuahua,
six members of a family were found dead
inside a mine three months after being kidnapped. Five of the dead were men ranging in age from 19 to 34, and the sixth was a 17 year-old boy.
Monday, December 27
In Acapulco,
police discovered the decapitated bodies of two men
outside a bar from where 11 men had been kidnapped on December 17. Notes with undisclosed messages were left at the scene along with the bodies. Two of the 11 men who were kidnapped were later found dead with their hands and feet removed.
Tuesday, December 28
In Nuevo Laredo,
41 prison guards were charged
with helping 153 suspected Zetas escape from prison on December 17. If convicted, they face 20 years in prison.
Thursday, December 30
Near Monterrey,
four police officers and a doctor
were killed in a series of attacks by heavily armed gunmen. In one incident, a grenade attack on a police station in the town of Valle Verde killed two police officers and a doctor who was at the station. The two other officers-including a female-were killed in two other separate incidents.
In Culiacan, Sinaloa,
the son of an FBI agent was gunned down
in front of his girlfriend. Christopher Elecnis Mandil, 26, was a mariachi musician from Arizona. The exact motive of the attack remains unclear.
Friday, December 31
In Ciudad Juarez,
two municipal police officers were shot dead, bringing the December total to 221.
The city and the surrounding Valle de Juarez ended the year with 3,111 murders. Of these, 304 were women, 149 were members of the various law enforcement bodies that operate in the city, and 187 were minors. The most violent month in the city was October, during which time 359 people were murdered.
Monday, January 3
In Ciudad Juarez,
ten people were murdered
in several incidents across the city. In one incident, three people traveling in a car were shot dead. Just twenty minutes earlier, a man was kidnapped and taken to an empty lot to be executed. In another incident, two young men were shot and killed in front of a school.
In Tijuana,
the severed head of a young man was found hanging from a bridge.
His identity is unknown, but he is thought to be between 25 and 30 years of age. A threatening note was left nearby.
Tuesday, January 4
In Monterrey,
three people were shot and killed
on a street corner. Among the dead was a 13-year old boy. His twin brother and two other men were also wounded in the attack. In nearby Apodaca, Nuevo Leon, a Marine and a suspected Zeta were wounded in a firefight. Five other suspected Zetas were captured in the incident.
[Editor's Note: We are in a quandary over our running death tolls. Year-end 2010 figures vary and so do the totals since Calderon took office. Stay tuned as we try to figure out how to deal with this.]