Two of the leading contenders for the Republican presidential nomination sought to win votes by talking tough on drugs this week, with Texas Gov. Rick Perry calling for unmanned drones to overfly the US-Mexico border and former Massachusetts Gov. Mitt Romney saying the war on drugs must continue.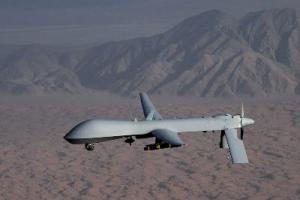 Meanwhile Rep. Ron Paul, one of two GOP contenders who have staked out positions critical of the drug war (the other is former New Mexico Gov. Gary Johnson), has seemingly vanished from the mainstream media despite coming in a very close second to Rep. Michele Bachmann in last weekend's Iowa straw poll.
Going on the offensive against President Obama as he announced his candidacy Saturday,
Perry accused Obama
of being "an abject failure in his constitutional duty to protect our borders in the United States." Perry waved his right hand toward Mexico as he made those remarks.
Later the same day, at a campaign event in New Hampshire, the tough-talking Texan again laid into Obama, this time
calling for the use of unmanned drones
to track the flow of drugs coming from Mexico. The Predator drones can stay aloft for up to 20 hours and are equipped with video and tracking technologies.
"We know that there are Predator drones being flown for practice every day because we're seeing them; we're preparing these young people to fly missions in these war zones that we have," Perry told the crowd. "But some of those, they have all the equipment, they're obviously unarmed, they've got the downward-looking radar, they've got the ability to do night work and through clouds. Why not be flying those missions and using (that) real-time information to help our law enforcement?" he asked.
That could be a valid question if one accepts the war on drugs paradigm, which Perry obviously does. The only problem with Perry's query is that
the Department of Homeland Security is already deploying drones
along the entirety of the US-Mexico border.
Romney, for his part,
addressed substance use and the war on drugs in response to questions from the audience
, including one from drug war zealot Steven Steiner, who founded
Dads and Mad Moms Against Drug Dealers
(DAMMAD) after his 19-year-old son died of a drug overdose.
"We've got to not only continue our war on drugs from a police standpoint, but also to market again to our young people about the perils of drugs," the front-running candidate said in response to questions in Littleton.
Romney was responding to one local businessman who complained that he and fellow rural business owners had trouble finding educated workers who can pass a drug test. He replied that people have to teach their children to get an education and stay away from drugs.
Later that evening, at a Berlin town hall, Steiner stood up and said he was frustrated with presidential candidates not talking more about drugs. Romney offered his condolences, said parents must do a better job of warning young people, mentioned his advisors on drug policy are worried about the medical marijuana movement, and offered a joke about it.
"There's a lot of marijuana on the beach," Romney said, referring to California and his home there. "It's amazing how many teenagers have medical problems that require marijuana. I'm saying that facetiously."
Drug policy is beginning to emerge as a campaign issue for the Republican contenders. Look for an in-depth Chronicle article on the candidates and their positions after Labor Day.
(This article was published by StoptheDrugWar.org's lobbying arm, the Drug Reform Coordination Network, which also shares the cost of maintaining this web site. DRCNet Foundation takes no positions on candidates for public office, in compliance with section 501(c)(3) of the Internal Revenue Code, and does not pay for reporting that could be interpreted or misinterpreted as doing so.)