More than 30 years ago, British neuropharmacologist Roger Pertwee co-discovered THC, the primary psychoactive ingredient in marijuana. Now, Britain's leading expert on cannabis says it should be legalized with regulations similar to alcohol and tobacco.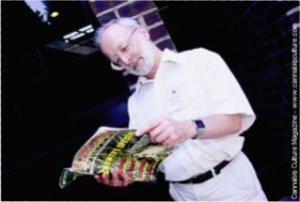 Such a move is necessary to take marijuana out of the hands of criminals and justifiable because marijuana is not "any more dangerous" than alcohol or tobacco, he said.
"In my view, we don't have an ideal solution yet to deal with recreational cannabis," the Aberdeen University cannabis expert said. "We should consider licensing and marketing cannabis and cannabis products just as we do alcohol and tobacco. At the moment, cannabis is in the hands of criminals, and that's crazy. We're allowed to take alcohol, we're allowed to smoke cigarettes. Cannabis, if it's handled properly, is probably not going to be any more dangerous than that."
The former Labor government down-scheduled cannabis from a Class B to a Class C drug in 2004, but then up-scheduled it back to Class B last year against the advice of the
Advisory Council on the Misuse of Drugs
. The council's chairman, Professor David Nutt, was fired after criticizing the government's drug policy, leading five other council members to resign in protest.
Possession of Class B drugs, a category that lumps marijuana in with amphetamines and barbiturates, is punishable by up to five years in prison, while selling pot can garner up to 14 years behind bars. More than 158,000 Britons were convicted of marijuana possession last year, according to the Home Office.
Pertrwee said he wanted to reopen the debate on marijuana and that he favored legalization if there were sufficient regulations in place. Prohibition forces users to either grow illegally or buy the drug from a criminal drug dealer, he said, and that carries its own problems.
"They have no idea what the composition is, what has been added to it, and they are at risk of being invited to take other drugs," he said.
Citing concerns about the link between marijuana and the onset of schizophrenia in a small sub-set of the population, Pertwee suggested that marijuana users be licensed after they see a doctor for an assessment of any potential mental health problems.
"You would need a minimum age of 21, but I would go further: that you have to have a license. You have to have a car license, you have to have a dog license; why not a cannabis license, so you can only take it if it's medically safe for you to do so?" he said.
Pertwee's remarks won a positive response from Nutt, a professor of neuropsychopharmacology at Imperial College, London. "I welcome this attempt by the UK's leading expert on cannabis to bring rationality to the debate on its legal status," he said. "As cannabis is clearly less harmful than alcohol, criminalization of people who prefer this drug is illogical and unjust. We need a new regulatory approach to cannabis. The Dutch coffee-shop model is one that has been proven to work but some of Professor Pertwee's new suggestions may well have extra benefits and should be actively debated."