Oh, temptation, such a torment for the weak-willed. A South Carolina cop peddles his drug dog's training dope, an Iowa cop gets caught with a bunch of coke, and a Florida trooper is profiling out-of-state pain patients and stealing their medicine. Let's get to it: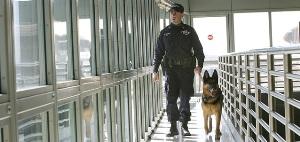 In Swansea, South Carolina,
a Swansea police officer was arrested Monday
for allegedly selling "training drugs" to people in the community. Charles Schuler, 37, was a K-9 officer and would be given small amounts of drugs to train his dog. But the department got a tip that Schuler was visiting a "known drug house" while on duty, and when police raided the place Monday, two people inside said Schuler supplied them with drugs. He is charged with misconduct in office and is being held at the Lexington County Detention Center on $100,000 bond. Oh, and he's now a former Swansea police officer. He was fired the same day he was arrested.
In Muscatine, Iowa,
a Muscatine police officer was arrested Saturday
after getting busted with 1.5 ounces of cocaine. Officer Scott Burk, 47, is charged with possession of a controlled substance with intent to deliver and a drug tax stamp violation, both felonies. He's looking at up to 15 years in prison if convicted on both counts. His arrest came after an investigation by the Iowa Bureau of Investigation, which has so far not released further details. Burk had worked an overnight patrol shift since November, but for a year before that, he had been an officer on the Muscatine County Drug Task Force. Last month, the state auditor reported that at least $8,810 in cash and money orders held by the task force could not be accounted for. Burk has not been named as a suspect in that. He is jailed on a $2,500 cash bond. He has been fired.
In Fort Pierce, Florida,
a former Florida Highway Patrol trooper faces a drug possession charge
after being accused of targeting cars with Kentucky and Tennessee license plates and stealing prescription drugs from their drivers and passengers. Former trooper Gary Bach faces one count of misdemeanor oxycodone possession. He went down after two separate complaints, one that alleged the theft of six Oyxcontin pills in October, and one in January in which a trooper was accused of stopping a vehicle because it had Kentucky plates. During an investigation that included the DEA, Bach told investigators it was "common knowledge" that people from Kentucky and Tennessee drove to Florida pain clinics to get prescriptions and that for two weeks last November he didn't stop anyone except people from those states as he investigated "doctor shopping." He was charged in May and resigned August 24.