Dear drug policy reformer,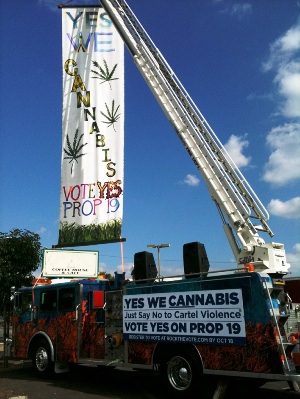 You may have read about me

this week on StoptheDrugWar.org

. My family and over 60 employees in California produce the best-selling natural brand of soap in the United States. Last week I made a personal $75,000 donation for a statewide

"Yes We Cannabis" student fire truck tour

of campuses throughout California, registering voters and getting people to the polls to

pass Prop 19 and legalize cannabis this Election Day.

You can read about why I decided to do this

here

.

I'm writing because

S

toptheDrugWar.org and the Prop 19 campaign need your help.

Polls show Prop 19 in the lead, but it's close, and voter turnout in this midterm election year could make or break it. There are important initiatives in Arizona, South Dakota and Oregon too. Whether you live in one of these states or not, there are thins that you can help with:
Register to Vote: Click here to print a form out that you or your friends can submit to your local election office. You have to register by the 18th to vote in California this year.
Phone Bank: Call people in California to get them out to the polls: Sign up to phone bank using email or Facebook or Twitter. Join the StoptheDrugWar.org Group on the site. Watch the Prop 19 phone bank training video. Go to the dashboard (between noon and 11:59 EST) and choose California or one of the other initiative states. (Make sure you've watched the video.) Then start calling voters. (Don't forget to

invite more people

to join the effort too.)
I'm grateful to Richard Lee for putting Prop 19 on the ballot with $1.5 million of his own money, and I'm proud that I could do this for Prop 19 too. Now it's your turn: The time StoptheDrugWar.org members spend at home or a friend's home or a coffee shop with your cell phone, could literally be what makes legalization happen this year. So please sign up and volunteer today!

Sincerely,


David Bronner, President
Dr. Bronner's Magic Soaps

P.S. Voter registration in California ends on Monday, a few days from now. So please don't wait -- please volunteer today!