The city of Oakland will pay out $1.2 million to settle a lawsuit filed by a woman who suffered serious burns from a flash-bang grenade thrown by a SWAT team officer during a 2008 drug raid. The city council voted to approve the settlement in closed session October 5 without admitting any wrongdoing.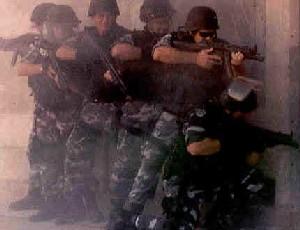 Nicole White, 31, was visiting a home in East Oakland and sleeping on a couch in the living room when an Oakland Police SWAT team serving a drug search warrant broke through the door after home resident Patricia Wilson slammed it in their face. One team member, Officer Chris Saunders, threw a flash-bang grenade toward a hallway, but it ricocheted into the living room, burning White on her chest and leg. Wilson was also injured, and has received a $45,000 pay-out from the city.
White suffered burns on 11% of her body and was permanently disfigured. She spent nearly a month being treated in the hospital. Her medical expenses ran to $400,000.
"This was a real tragedy," White's attorney, John Burris, told the
San Francisco Chronicle
. "The conduct of the police was reprehensible."
White's lawsuit accused police of using an "extreme level of force" in throwing the grenade in the house. Police should have known that flash bangs, which emit a loud noise and blinding flash upon detonation, could burn or injure innocent bystanders, the lawsuit said.
The lawsuit also accused police of conducting the raid to retaliate against a man connected to the home who had just three days earlier filed a class-action lawsuit accusing officers of lying on search warrants. The city denied any link, saying police believed people at the residence were armed gang members. Police found two shotguns in a garage, as well as unspecified quantities of heroin and cocaine. Neither White nor Wilson were charged.
The man who filed the class action suit, Roland Oliver, had been arrested at the house in March 2008. But prosecutors dismissed the case after finding that Officer Karla rush falsely stated on a search warrant affidavit that suspected drugs seized during his arrest had been tested and confirmed as actual drugs. That case was one of a series of similar cases in which officers lied about having confirmed drug samples. Four officers, including Rush, were fired, although one got his job back through arbitration.