The New Jersey Department of Health and Senior Services released highly restrictive regulations for the state's medical marijuana program last week, tightening the screws on what patients, lawmakers, and advocates were already calling the most restrictive medical marijuana program in the country. Medical marijuana supporters were quick to react.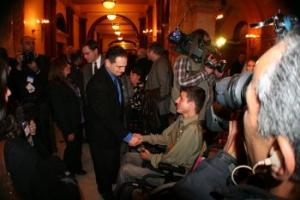 The proposed regulations limit access to patients suffering from at least one of nine specified diseases or conditions and require that their recommending physicians have been treating them for at least a year and have had seen them in their offices at least four times. Recommending physicians must be prepared to state that other therapies have been tried and failed.
Patients must then be approved by a state-appointed review panel. If approved, they can obtain medicine only from one of four dispensaries or have it delivered to them by a dispensary (unless they are within 1,000 feet of a school). Patients cannot grow their own, nor can they designate a caregiver to grow for them, although they can designate a caregiver to pick up their medicine if necessary. They are limited to two ounces per month.
The regulations specify that medical marijuana can be no stronger than 10% THC and that only three strains will be available. The medicine can be formulated as dried flowers, oral lozenges, or a spray.
Nonprofit dispensaries, or Alternative Treatment Centers, would obtain their supplies from one of two grow operations licensed by the state. Application fees for dispensaries are $20,000, with only $18,000 refundable if the application is denied. There is also a $20,000 annual renewal fee.
Limiting dispensaries to four directly contradicts New Jersey's
medical marijuana law
, passed earlier this year, which specifies a minimum of six.
Dispensaries would not be allowed to serve food or beverages or provide for on-site consumption, nor would they be allowed to sell marijuana-themed apparel or other paraphernalia to the public, though they would be able to sell such products to patients. And they must adhere to a written drug-free workplace policy.
Dispensaries delivering medical marijuana to patients must have two employees in the delivery vehicle. The vehicles must have separate lock boxes, one for the medicine and one for the cash. And delivery vehicles cannot bear advertising. But wait, there's more: Dispensaries must have a $1,000,000 insurance policy on each vehicle, delivery cannot be made the same day the patient places an order, and dispensaries must tell patients not to engage in "extraneous conversation" with the delivery persons.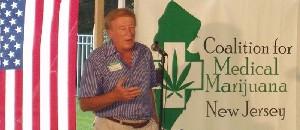 The regulations also push back the start-up date for the program to July 2011. That's a year and a half after then Gov. Jon Corzine (D) signed legislation into law. Sitting Gov. Chris Christie (R) had asked for a six to nine month delay in implementing the law earlier this year. The legislature gave him three months.
"We have designed a clinically sound program that is unique to New Jersey,'' said Health Commissioner Poonam Alaigh. "It is a physician-driven program that provides access to qualified patients for whom conventional treatment has failed and who may benefit from medicinal marijuana as a symptom reliever. The program is also designed to ensure that patients receive ongoing medical care from a physician."
If Alaigh was happy with the regulations, the authors of the law were not. "I don't want them rewriting my law," Sen. Nick Scutari (D-Union) told the
Newark Star-Ledger
the same day the regulations came out. He cited the proposal to reduce the number of dispensaries from six to four. He added that he was also disappointed in the proposed July 2011 start up date. "That's not right either."
"If we don't follow the spirit of the law to a 'T' we will essentially be erasing the compassionate element in this act," said Assemblyman Reed Gusciora (D-Mercer), one of the law's primary proponents, in a
press release
the next day. "My foremost concerns are that the department is moving towards allowing only four alternative treatment centers and two cultivation centers while also limiting the allowable THC levels and the forms in which patients can use medical marijuana. Not only does this violate the legislative intent of the bill but it also means that we will be limiting the availability of this treatment alternative to only a select few."
"It seems that the goal of the regulations is to provide the least amount of relief to the least number of patients," said Roseanne Scotti, Director of the
Drug Policy Alliance
New Jersey office, which spearheaded the effort to pass the legislation. "The major problems with the proposed regulations are that they only allow for four locations where patients can access medical marijuana and they place unnecessary restrictions on those locations. Imagine if there were only four pharmacies in the whole state where seriously ill patients could get their medications."
"These proposed regulations go far beyond the already strict limits spelled out in the legislation," said Don McGrath, whose son Sean who died from a rare form of cancer several years ago and used medical marijuana to relieve the symptoms of his disease. "We already had the strictest law in the country. I don't see how the program will be workable with these restrictions." McGrath, who advocated for the legislation for years and testified before the New Jersey Legislature on several occasions, also questioned whether the regulations violated the law and the intent of the legislators who voted for it. "The legislature clearly intended for there to be
at least
six locations where medical marijuana would be dispensed. That is the exact language in the bill. But the Department of Health and Senior Services has decided to reduce that number below the minimum required. How is that legal?"
"This is appalling and will hurt patients in a big way," said Michael Oliveri, who has muscular dystrophy and uses medical marijuana to treat his symptoms. "There are many stains of medical marijuana and they have different properties. There are different health benefits for each strain. Some are good for sleep, some for pain, some for appetite stimulation. Patients need to be able to access and try the type that works best for their symptoms." Oliveri, whose family lives in Oradell, moved to California several years ago so that he could legally access medical marijuana. He returned to New Jersey several times during the fight for the legislation to advocate for New Jersey to pass a medical marijuana bill.
"Rather than create a reasonable set of regulations, the Christie Administration is playing politics with the lives of New Jersey's most severely ill residents. Instead of opening a pathway to safe marijuana access these draft regulations only create more barriers," said Chris Goldstein, a spokesman for the
Coalition for Medical Marijuana-New Jersey
. "Patients in New Jersey now have a legal right to medical marijuana. These draft regulations are deeply flawed and do not reflect the vision that patients, advocates and the legislation have for compassionate access."
Goldstein raised suspicions that some sort of corporate-friendly fix was in. "These regulations were written for somebody. They feel that somebody can actually fulfill this the way it was written," he said.
He also questioned the department's due diligence in researching medical marijuana and programs in other states. "That they did all this research over months and months, and then came back with these regs tells me it's about politics, not about science and research," he said. "No medical marijuana expert will tell you that capping THC is a great idea or that three strains is adequate for the patient population of a whole state."
Goldstein said CMMNJ is weighing its options and will be holding a board meeting Thursday evening to plot out a course of action. "We haven't had a chance to formulate a strategy for moving forward yet, but you can rest assured we will have a loud and vocal presence."
Years of lobbying and campaigning by patients and advocates were rewarded in January, when the law was signed. Little did they know the nature of the obstacles they would face in actually getting a working law. Now they do, and the fight is on.