After his third pot possession bust in five years, country music legend Willie Nelson has had enough. He told former High Times editor Steve Bloom's CelebStoner web site Sunday it is time for a new, pro-marijuana political party.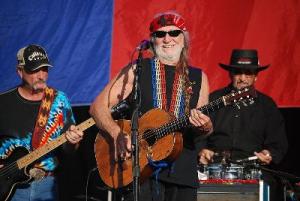 "There's the Tea Party. How about the Teapot Party? Our motto: We lean a little to the left," Nelson said. "Tax it, regulate it and legalize it, and stop the border wars over drugs. Why should the drug lords make all the money? Thousands of lives will be saved."
A
Willie Nelson's Teapot Party
Facebook page went online Sunday, as well.
Nelson was arrested Friday at a border checkpoint in Sierra Blanca, Texas, on Friday after officials smelled marijuana. They searched the vehicle with drug-sniffing dogs and found six ounces of pot. Nelson was arrested and jailed until he posted a $2,500 bond later that afternoon.
Nelson's arrest was just one of what are likely to be around 900,000 pot busts this year, the vast majority for simple possession. Last year, more than 850,000 people were arrested for marijuana offenses.
Despite a raft of recent polls showing increasing support for marijuana legalization nationwide and majority support on the West Coast, the number of members of Congress showing any interest in moving toward marijuana legalization remains in the single digits OR can be counted on one hand. However, there have been
rumors of support
in some influential Democratic circles for marijuana legalization as a get-out-the-vote strategy. Dozens of Democratic organizations in California lent their endorsement to this year's
Prop 19
ballot initiative, as did the Republican Liberty Caucus.