The US Drug Enforcement Administration (DEA) announced Wednesday that it is issuing an emergency ban on five chemicals used to make synthetic marijuana products. The ban will go into effect in 30 days and will at least temporarily place the chemicals on Schedule I of the Controlled Substances Act.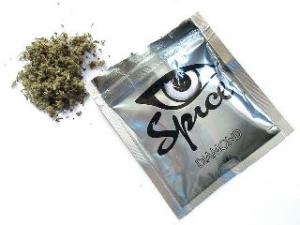 Marketed as incense and sold under names including Spice and K2, the stuff has grown increasingly popular since it first appeared on store shelves around two years ago. Spurred on by prohibitionist reflex, as well as reports of emergency room visits and calls to poison centers, 15 states have already banned synthetic pot products. Similar legislation is pending in several more. Last week, powerful Sen. Orrin Hatch (R-UT) wrote
a letter to the DEA seeking a federal ban
.
The ban announced Wednesday is temporary and will be in effect for one year, with the possibility of a six-month extension. During that period, DEA and the Department of Health and Human Services will decide whether the substances should be permanently controlled.
"The American public looks to the DEA to protect its children and communities from those who would exploit them for their own gain," said DEA Acting Administrator Michele Leonhart. "Makers of these harmful products mislead their customers into thinking that 'fake pot' is a harmless alternative to illegal drugs, but that is not the case. Today's action will call further attention to the risks of ingesting unknown compounds and will hopefully take away any incentive to try these products."
The
Drug Policy Alliance
(DPA) was quick to criticize the DEA's move. "The DEA says that prohibiting synthetic marijuana will 'control' it – yet we know from history that prohibition is the complete opposite of drug control," said DPA spokesman Tony Newman in a Wednesday press release. "DPA is advocating for establishing regulatory restrictions, such as age limits and product labeling requirements, rather than banning it outright and relegating it to the black market."
Despite approximately 2,000 poison control center contacts from synthetic pot users complaining of a variety of symptoms including nausea, rapid heartbeat, and disorientation, DPA noted that there are no known cases of fatal synthetic pot overdoses and that there is no evidence the stuff is addictive.
"Scheduling [synthetic marijuana] as a controlled substance will have unintended detrimental consequences," DPA warned. "If K2 were banned outright, young adults could face immediate, devastating and life-long legal barriers to education, employment, voting and government benefits for K2-related drug law violations, despite a lack of evidence of harm to themselves or others. The use of scarce government funds to enforce, prosecute and incarcerate people who use K2 would put a strain on criminal justice resources."