Michele Leonhart's nomination to be Drug Enforcement Administration (DEA) administrator appeared to be on track for an easy confirmation after a Wednesday hearing in the Senate Judiciary Committee. The nomination is opposed by the drug reform, medical marijuana, and hemp movements, but insiders say it is all but a done deal.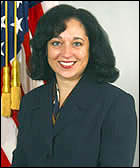 While reformers had hoped one or more senators would ask Leonhart "tough questions" about her tenure as acting DEA administrator, that didn't happen. Sens. Herb Kohl (D-WI) and Patrick Leahy (D-VT) pressed Leonhart about easing access to pain medications for senior citizens in nursing homes, but that was about the extent of the prodding.
Sen. Jeff Sessions (R-AL), expressing concern about all that legalization talk in the air, gave Leonhart the opportunity to assure him that she and the DEA stood steadfast. She obliged him.
"I have seen what marijuana use has done to young people," Leonhart said. "I've seen the addiction, the family breakup. I've seen the bad. I'm extremely concerned about the legalization of any drugs," she avowed. "We already have problems with prescription drugs, which are legal, so it's of concern."
Legalizers are singing a seductive siren song, Leonhart warned. "The danger of these legalization efforts, they say we could just end the problem of drugs if we just make it legal," she explained. "But any country that has tried that -- the Netherlands, Alaska -- it has not worked, it is failed public policy."
Leonhart was nominated by President Bush to be administrator at DEA after replacing Karen Tandy in 2007 and has been acting administrator ever since. The Obama administration renominated her as administrator in February, but the nomination languished as the committee dealt with other business, most notably addressing a backlog of judicial nominations and preparing for confirmation hearings for the nomination of Elena Kagan to the Supreme Court.
Medical marijuana and drug reform advocacy groups have opposed Leonhart's nomination on a variety of grounds. As Special Agent in Charge of the DEA's Los Angeles office from 1998 to 2004 and DEA deputy administrator from 2003 to 2007, she presided over hundreds of raids on medical marijuana patients and providers. As acting administrator, she ran DEA while California medical marijuana raids continued unabated until the October 2009 Justice Department memorandum to quit persecuting patients and providers "whose actions are in clear and unambiguous compliance with existing state laws."
Even since then, while DEA medical marijuana raids have diminished, they have not stopped. According to the medical marijuana support group
Americans for Safe Access
(ASA), since the memo went out, the DEA under Leonhart has engaged in more than 30 raids of medical marijuana providers in states where it is legal.
"As the deputy director, Ms. Leonhart supervised an unprecedented level of paramilitary-style enforcement raids designed to undermine safe access and the implementation of state medical marijuana programs," ASA said in an alert to its members.
Leonhart is also drawing fire from advocates for overturning a DEA administrative law judge's decision to issue a license to UMass-Amherst Professor Lyle Craker to grow marijuana for FDA-approved research. That decision left intact the federal government's monopoly on the cultivation of marijuana for research purposes. It is grown only at the University of Mississippi.
And she is being opposed as well for her DEA's recalcitrance when it comes to industrial hemp. In a
July letter
to the committee, the industry group
Vote Hemp
said it opposed Leonhart's nomination because under her tenure DEA continues to block hemp production in the US, has failed for more than three years to respond to several applications from North Dakota-licensed farmers to grow hemp, and continues to maintain the fiction that hemp is marijuana.
"Michele Leonhart, the nominee for administrator and a lifetime DEA bureaucrat, severely lacks the vision to change policy on hemp farming for the better," the group said. "Vote Hemp strongly opposes the nomination of Michele Leonhart to be Administrator of the DEA."
There is another reason to question her suitability to run DEA -- her dealings with and defense of one-time DEA "supersnitch"
Andrew Chambers
. Chambers earned an astounding $2.2 million for his work as a DEA informant between 1984 and 2000. The problem was that he was caught perjuring himself repeatedly. The US 9th Circuit Court of Appeals called him a liar in 1993, and the 8th Circuit Court of Appeals echoed that verdict two years later.
But instead of terminating its relationship with Chambers, the DEA protected him, failing to notify prosecutors and defense attorneys about his record. At one point, DEA and the Justice Department for 17 months stalled a public defender seeking to examine the results of DEA's background check on Chambers. Even after the agency knew its snitch was rotten, it refused to stop using Chambers, and it took the intervention of then Attorney General Janet Reno to force the agency to quit using him.
Michele Leonhart defended Chambers. When asked if, given his credibility problems, the agency should quit using him, she said, "That would be a sad day for DEA, and a sad day for anybody in the law enforcement world... He's one in a million. In my career, I'll probably never come across another Andrew."
Another Leonhart statement on Chambers is even more shocking, as much for what it says about Leonhart as for what Leonhart says about Chambers. "The only criticism (of Chambers) I've ever heard is what defense attorneys will characterize as perjury or a lie on the stand," she said, adding that once prosecutors check him out, they will agree with his DEA admirers that he is "an outstanding testifier."
And then there's her connection to the "House of Death" scandal. The "House of Death" in Ciudad Juárez, Mexico, was a house used by the Juárez drug cartel to murder people. Dozens of bodies were eventually recovered when the police raided it. The case revolves around a US Immigration and Customs (ICE) and DEA informant in Mexico, code-named "Lalo," who witnessed (and perhaps took part in) a murder in the House of Death during August 2003. In a lawsuit, whistleblower and former DEA Special Agent Sanalio Gonzalez charges that Leonhart and other officials fired him for speaking out about the murders and then helped cover the scandal up.
A number of reform groups have organized Internet and phone call-in campaigns in a bid to derail the nomination.
Students for Sensible Drug Policy
,
NORML
,
California NORML
, and
Firedoglake
have all sounded the alarm. So has the
Marijuana Policy Project
(MPP).
[
Editor's Note: The interviews below were conducted before Wednesday's hearing
.]
"We are asking our supporters and followers to contact their representatives if they are serving on the committee and tell them to ask her some tough questions about her previous actions," said MPP communications director Mike Meno. "She presided over hundreds of DEA raids on legal medical marijuana providers during Bush admin, and played a crucial role in rejecting applications to do FDA-level research on marijuana."
ASA provided a
list of questions
for the committee to ask Leonhart, including how raiding medical marijuana providers was an efficient use of DEA resources, how the DEA might work with medical marijuana states, why the DEA didn't just hand over cases of "clear and unambiguous" violations of state medical marijuana laws to state authorities, and when the DEA might get around to deciding the status of a 2002 petition to reschedule marijuana.
"I was hoping that this nomination was going to die a slow death but it appears as if they are going forward with it," said Tom Murphy, outreach coordinator for Vote Hemp. "We sent a letter in opposition, as I know a number of other organizations have. We've also got a pair of action alerts up on our web site. We've been working it against this since June, and we have a long list of reasons to oppose her nomination."
But it doesn't appear that the senators on the Judiciary Committee are paying much heed to the stop Leonhart campaign. Despite the protests, her nomination is likely to sale through the committee tomorrow and be quickly approved by the Senate.
"Unfortunately, I don't think there's any chance of stopping her nomination," said Murphy. "She was nominated by Bush, and the committee sat on it, and renominated by Obama and they sat it on. Now we're a lame duck session, and they're moving it. That tells me they have the votes to get it through and it's a done deal."
"The prospects aren't good. Every office we've talked to has said they weren't going to go against an Obama nominee," said Bill Piper, national affairs director for the
Drug Policy Alliance
, which also opposed the nomination. "But if we can get some senators to put pressure on her publicly or privately, maybe she will quit being such as obstacle when it comes to things like Amherst and the raids. We're taking sort of a harm reduction approach, like when Asa Hutchinson was grilled during his hearing and came out in support of reducing the crack/powder cocaine sentencing disparity."
Getting Michele Leonhart to back off a little on the medical marijuana raids would be a welcome consolation, but don't hold your breath. Progressive drug policy stances are not the traditional province of the DEA, and it looks like nothing is going to change there for the foreseeable future.