The newly elected rightist Dutch government said last Wednesday it wants to bar foreigners from buying marijuana in the Netherlands' famous cannabis coffee shops. The move is part of a national crackdown on drug use, a government spokesman said.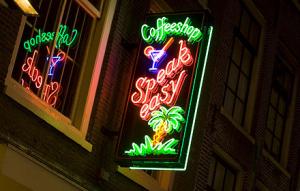 For more than 30 years, Holland has allowed the sale of small amounts of marijuana (currently up to five grams) in coffee shops, even though laws against marijuana possession technically remained on the books. In recent years, conservative governments have increasingly signaled their unhappiness with the status quo and have embarked on campaigns to reduce the number of coffee shops.
Dutch coffee shops are a popular tourist destination, especially with visitors from neighboring France, Germany, Belgium, and other countries with more repressive approaches to pot. But some border towns have already moved to bar foreigners, citing traffic, congestion, and public order problems.
Last Wednesday, Dutch Security and Justice Minister Ivo Opstelten told NOS radio
the governing coalition had agreed to limit marijuana sales to Dutch residents
in order to curb crime linked to marijuana production and sales. "No tourist attractions," said Opstelten. "We don't like that."
But it is not "drug tourism" that creates crime around pot cultivation and distribution. Instead, it is Holland's half-baked approach to tolerating marijuana. The Dutch government allows for legal retail marijuana sales, but does not allow for a legal method of growing marijuana to supply the coffee shops. That leaves the door open for criminals to get involved in the trade.
While some border towns have already acted to bar foreigners, there is less enthusiasm for a ban in Amsterdam, home to some 223 coffee shops. The municipal government there said it was studying the government proposal. "We are taking the current practice as a starting point. It is not perfect but in many ways we have a functioning coffee shop system," an Amsterdam city spokesman said.
The "no foreigners" policy has not yet been formally drafted and no firm date for the ban has yet been set. But it looks like foreign pot smokers are about to join Muslims as persona non grata in the brave new Holland.