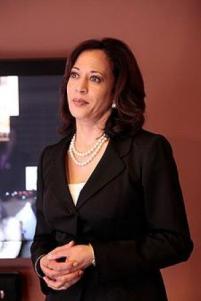 Democratic California Attorney General candidate Kamala Harris has overtaken Republican Steve Cooley as absentee and provisional ballots continued to be counted. As of Wednesday afternoon, the last time the California Secretary of State's office updated the figures, Harris was leading
46.0% to 45.6%
, a lead of some 30,000 votes out of more than nine million cast.
About 898,000 votes remain to be counted, with some 200,000 of them coming from Los Angeles County, where Cooley is the sitting county prosecutor. But Harris is whipping Cooley on his home turf, leading him by more than 12 points in the votes that have already been counted.
Cooley is adamantly opposed by California's medical marijuana community. He has been a persistent foe of Southern California medical marijuana dispensaries, and has argued that all dispensaries in the state are illegal.
One
mathematical model
that has proven accurate so far predicts that Harris will win a squeaker by about 13,000 votes. Now, it looks like that model was slightly too conservative.
Harris would be the first woman, the first African-American, and the first Asian-American to hold the office of California attorney general, and the first Indian-American to be attorney general in any state.