Update: Please see an important bulletin including an action alert for Arizonans that we published on Wednesday.

It was a tough night for medical marijuana, with two state initiatives losing decisively and a third trailing slightly very late in the game.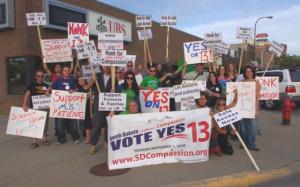 In Arizona,
Proposition 203
, which would create a tightly regulated medical marijuana dispensary system, was trailing in a very close race, with 49.74% of the vote to 50.26% against, in
unofficial results
from the secretary of state. The AZ Secretary of State's office reports that 100% of precincts have turned in their ballot counts. However, as an email from the initiative's main sponsor, the
Marijuana Policy Project
, pointed out Wednesday, there are 200,000-300,000 mail-in ballots estimated to have arrived at polling stations or elections offices in the final hours of the campaign, as well as "provisional" ballots cast by people whose residency was in dispute at the polls on Election Day. If 52% of those ballots have Yes on 203 votes in them -- more than the statewide average, but not radically -- Prop 203 would pull ahead.
Oregon's
Measure 74
would have expanded the state's existing medical marijuana program by allowing for a system of state-regulated, nonprofit dispensaries and grow operations. According to
official figures
, it lost 42% to 58%.
South Dakota's
Measure 13
would have created a tightly restrictive medical marijuana program, with no dispensaries and a list of specified ailments and conditions. According to
unofficial figures
from the secretary of state, it lost 37% to 63%.
None of the medical marijuana campaigns have yet reacted publicly to Tuesday's results. Look for a Chronicle feature article exploring what went wrong in the near future.