The capital of Jamaica, Kingston, is still smoldering -- literally -- after four days of violent conflict between Jamaican security forces and a fugitive drug "don" (as the heads of gangs are called there) and his supporters left at least 73 people dead by official count. The fighting took on much of the form of an urban insurrection, with gunmen attacking police and soldiers and assaulting at least 18 police stations, one of which burned to the ground. Three policemen were killed in the first day of fighting.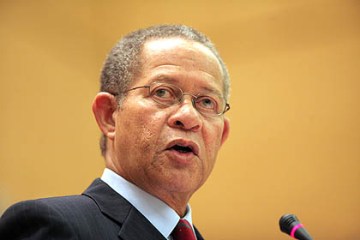 The fighting pitted followers of Christopher "Dudus" Coke, an alleged major gang leader and drug and weapons trafficker wanted by the US, against a government they felt had betrayed him -- and them. Last week, after months of trying to block an American extradition request, the government of Prime Minister Bruce Golding gave in to mounting political pressure and ordered him sent to the US, setting off mass demonstrations by his followers centered in the tough Kingston neighborhood of Tivoli Gardens.
Dudus' supporters put up street barricades of wrecked vehicles and other debris and armed young men strolled the streets amid reports that members of other Jamaican drug gangs, or posses, were streaming into to Kingston to join the fight. Golding announced a state of emergency Sunday night after the first attacks on police stations, but it took until Thursday for the police and the army to exert control over Tivoli.
Although the violence has died down, many issues remain unresolved. Dudus is still a free man, having eluded the authorities' assault on his stronghold in Tivoli Gardens, the prime minister's relationship with Dudus is being closely scrutinized, and now, complaints about unjustified killings by security forces this week are once again raising serious concerns about Jamaica's human rights record.
And while the violence has died down, it hasn't ended. Police stormed a house in the middle class community of Kirkland Heights Thursday after hearing that Dudus may have holed up there, setting off a two-hour firefight. Among the casualties there was the brother of former Minister of Industry and Commerce Claude Clark, who was killed by security personnel in the crossfire.
The confrontation in Kingston is shining the spotlight on long-acknowledged but usually quietly ignored connections between Jamaica's two main political parties, the ruling Labor Party and the opposition People's National Party, and tough Kingston slum gangs. Ever since violent election campaigns in the 1960s and 1970s, when leaders of both parties recruited neighborhood toughs, the "rude boys" of reggae lyrics, in Kingston slums like Tivoli or Trenchtown to act as their deniable armed wings, the parties have relied on these neighborhood gangs not only for fighting when necessary, but also to deliver the vote. In return, they turn a blind eye to some of the gang's more nefarious activities.
Dudus, as leader of the Tivoli Gardens posse, which was affiliated with Labor, had long been an ally of Prime Minister Golden. The neighborhood is even part of Golden's constituency -- thus the anger against the government by residents who had benefited from Dudus' largesse amid poverty and neglect from the government.
Like Pablo Escobar in Colombia, who gained popular support by building schools and soccer stadiums, or the contemporary Mexican drug cartels, who do the same sort of public-minded philanthropy for the same mix of genuine and public relations purposes, Dudus provides services -- as well as security -- for Tivoli Gardens and its residents. In doing so, he came to be viewed by many as a sort of Robin Hood figure.
"Coke was the standard 'Teflon don,'" said Larry Birns, head of the Council on Hemispheric Affairs, whose associate, Katherine Haas, this week published in a most timely fashion, Jamaica: Different Drug War, Different Strategy, a critique of US drug policy on the island. "For a relatively small percentage of the swag, he saw to it that there was a tremendous amount of goodwill in the neighborhood for his candidates. For Coke, it was always Labor, the Republicans of Jamaica."
Prime Minister Golding did his part by stalling for nine months the extradition order against Dudus after he was indicted on drug trafficking and weapons smuggling charges by a federal grand jury in New York. He even went as far as hiring a Washington, DC, public relations firm to attempt to lobby the indictment away, but when that became public knowledge, Golding's support for Dudus was not longer politically tenable.
"Coke was working for the JLP and Golding stalled as long as he possibly could to get the extradition going, but his ability to sustain his position vanished, so they had to go after Coke," Birns said. "But Coke had developed a cordon sanitiare of affection and appreciation because of what he has done for his neighborhood."
"They do have popular support because of the numbers of beneficiaries, and the financial support they provide to the communities," agreed Jamaican marijuana legalization activist Paul Chang.
US drug policy toward Jamaica hasn't helped, said Birns, whose organization has become increasingly critical of drug prohibition in recent years. American efforts to ameliorate some of the negative results of that policy are too little, too late, he said.
"US drug policy plays a role in this because the administration has announced a new program that will emphasize institution-building all the drug-infected countries in the region and emphasize the demand side, but we've heard all that before," he said. "Administration after administration has hurled rhetoric at the problem, but the existence of the drug cartels shines a laser-light like on the results of these policies. Anyway, although none of these islands has a viable economy, they want to give the paltry sum of $100 million to the Caribbean and Central America under Plan Merida. Guatemala alone could consume all that," he said.
"When it comes to Jamaica, you have the confluence of inadequate Latin America policy-making fused to a misconceived drug policy, and that becomes a very explosive mixture, and the ensuing violence we see in Jamaica is just the result," Birns summed up.
As of this writing, Dudus is still on the lam, Tivoli Gardens is still smoldering, Amnesty International is calling for an investigation of alleged street executions by security forces, and Prime Minister Golding is still holding on to power. But the violent challenge to the state's monopoly on the use of force has rocked Jamaica and revealed the dark webs of power linking politics and the underworld. The reverberations from this week will be felt in Jamaica for a long time to come.