An official of one of the world's leading drug executioner states has justified its mandatory death penalty for drug trafficking by saying to do otherwise would send the wrong signal to "drug barons." The state is Singapore, the authoritarian city-state on the tip of the Malay Peninsula, and the official was Law Minister K Shanmugam.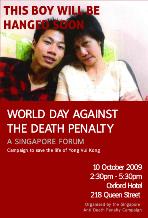 Shanmugam made his remarks to the Straits Times Sunday when asked about the case of Malaysian Yong Vui Kong, 22, who was sentenced to death for smuggling 47 grams of heroin in 2007. His case has attracted international attention from human rights groups and is now before the Singapore Court of Appeal.
It would be wrong if drug smugglers got off too cheaply because of mitigating factors like youth or motherhood, he said. "We are sending a signal to all the drug barons out there: Just make sure you choose a victim who is young, or a mother of a young child, and use them as the people to carry the drugs into Singapore," the minister said.
In March, Yong's attorney argued before the appeals court that the mandatory death penalty for trafficking more than 15 grams of heroin was unconstitutional because it gave judges no discretion to consider mitigating factors. But the government responded that the sentence was in line with the law passed by Singapore's legislature.
According to a report on the death penalty for drug offenses from the International Harm Reduction Association, more than 400 people have been executed in Singapore since 1991, the majority for drug offenses. Drug executions accounted for 76% of all executions there from 1994 to 1999, and Singapore has been executing drug offenders at a rate of about 20 a year for the past decade.
It's worth it, said Shanmugam. The death penalty had been critical for suppressing drug trafficking and use in the city-state, and unlike most countries, it had not lost the war on drugs. "But you won't have human rights people standing up and saying: 'Singapore, you have done a great job, having most of your people free of drugs,'" he said.