Tomorrow is National Law Enforcement Memorial Day, a day to mark the service of those law enforcement officers who died in the line of duty. Fortunately for drug law enforcers, last year did not leave a lot of fallen officers to memorialize. And while it may cut against the grain of countless pop culture depictions about dangerous drug dealers, last year was not unusual.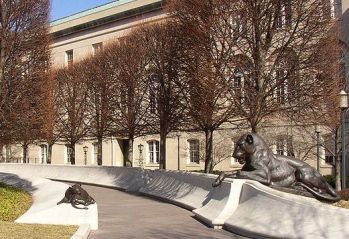 Doing drug law enforcement is just not that dangerous. According to statistics on police line of duty deaths compiled by the
Officer Down Memorial Page
, only three law enforcement officers were killed enforcing drug laws last year, and those three were not undercover narcs doing drug buys or SWAT team raiders busting down doors, but DEA agents who died in a helicopter crash in Afghanistan. (One officer,
Michael Crawshaw
of the Penn Hills Police Department in Pennsylvania, was killed responding to a drug-trade murder in which one drug trafficker killed another over a drug debt. This officer death was certainly related to the drug war; we rightly or wrongly did not include him in the count because he was responding to a murder, not a drug crime.)
By contrast, according to FBI preliminary figures, 48 law enforcement officers were "feloniously killed in the line of duty"-- none of them doing drug law enforcement. But that was less than half of the 126 line of duty officer deaths last year. Auto accidents killed 34, drunk drivers killed nine, heart attacks killed nine more, seven died after being struck by vehicles, and four died in aircraft accidents (including the three DEA officers). Duty-related illness, 9/11-related illness, and motorcycle accidents accounted for three each, two died after being shot accidentally, and one was beaten to death.
According to historical data provided to the Chronicle by the National Law Enforcement Officers Memorial Fund, which also compiles statistics on police line of duty deaths, last year's low death toll among officers enforcing the drug laws is not a fluke. In the decade between 1978 and 1988, an average of 6.5 officers were killed each year; in the following decade, the number was 6.2; and in the last 10 years, an average of 4.3 officers were killed each year enforcing the drug laws. The single bloodiest year for drug law enforcement was 1988, when 12 officers died.
In 2008, the number of police who died maintaining drug prohibition was seven; in 2007, it was four; it 2006, it was five; in 2005, it was four. When placed in the context of the more than 1.5 million drug arrests made in each of those years, it is clear that only one in every several hundred thousand drug arrests leads to an officer's death. During the past 10 years, the odds were less than 1 in 350,000.
But while drug law enforcement is not in itself that dangerous for police, certain police tactics raise the risk -- for both law officers and the recipients of their attention. Of the 20 officers killed enforcing the drug laws since 2005, nine were killed in drug raids and five were killed doing undercover work.
Two of the 2008 officer deaths demonstrate the risks involved in aggressive forced-entry raids. In Virginia, Chesapeake Police Detective Jarrod Brent Shivers, who also doubled as the door-rammer for the SWAT team, was killed by Ryan Frederick, who shot through a door in fear for his life in reaction to the home invasion. Frederick, who had recently been burgled, was eventually sentenced to 10 years in prison. The cops were looking for a marijuana grow, but found only Japanese maple trees which the informant apparently mistook for pot.
FBI Agent Samuel Steele Hicks died in another raid gone bad. While serving a forced entry narcotics search warrant in Indiana Township, Pennsylvania, Hicks was shot and killed by the suspect's wife, Christina Korbe, who fired blindly from a bedroom at what she later said she thought were intruders. Although Korbe was not a target in the investigation of an 18-year drug conspiracy, she has since been charged with a string of drug offenses in addition to facing a murder charge.
Aggressive law enforcement tactics, such as dynamic entries (kicking in the door) and SWAT-style assaults have also left dozens of homeowners dead. (See Cato Institute analyst Radley Balko's now famous report, "Overkill: The Rise of Paramilitary Policing in America and the police militarization archive at his blog, The Agitator for page after page of stomach-turning reports.)
In November 2006, undercover Atlanta narcotics officers doing a forced entry raid shot and killed 92-year-old Kathryn Johnston after the woman fired at the people breaking down her door in a high-crime neighborhood. In this case, at least, the police were held accountable, in part because their conspiracy to cover up their fabrication of evidence for a search warrant quickly unraveled. Three of them went to prison.
On January 6, 2008, police in Lima, Ohio, shot and killed a 26-year-old mother of six, Tarika Wilson, during a raid aimed at her boyfriend. The police shooter was eventually found not guilty for killing her.
The following day in North Little Rock, Arkansas, a police SWAT team raided the home of Tracy Ingle. Awakened by a ram battering his door and thinking he was under attack by armed robbers, Ingle grabbed a broken pistol to scare them off. Officers fired multiple shots, wounding him five times. He spent a more than a week in intensive care before police removed him, took him to the police station, and questioned him for five hours. He was charged with running a drug enterprise even though no drugs were found.
In May, Connecticut police raiding an apartment after being informed that people were smoking crack there, shot and killed Gonzalo Guizan, who was unarmed. Police said he charged at them. All they found was a crack pipe.
This year, at least two people, Florida grandmother Brenda Van Zweiten and Memphis resident Malcolm Shaw were killed in separate SWAT-style raids on their homes the same week in March. In both cases, police claimed the victim was armed. Whether Van Zweiten, who was raided over small-scale drug dealing out of her house, or Shaw, who was raided over simple drug possession (!) intended to attack police or were merely trying to defend themselves from intruders breaking into their homes, will never be known because they are dead.
It's not just people. Dogs also seem to be a favorite target of drug-raiding police. That has certainly become an issue in the February SWAT raid in Columbia, Missouri (see related story here), which has resulted in widespread outrage after a video of the raid found its way to YouTube last week. In that incident, police executing a search warrant over alleged marijuana sales killed one dog and wounded another, and terrified the suspect's wife and child, but found only a tiny amount of weed and a pipe.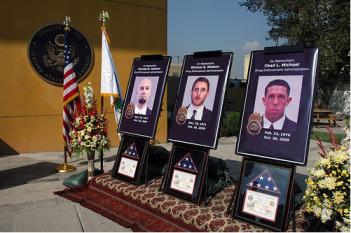 Another infamous dog-killing SWAT raid occurred in 2008 in Maryland. Cheye Calvo, the mayor of the Washington, DC, suburb of Berwyn Heights, saw his two dogs shot and killed by a Prince George's County SWAT team that burst into his home after his mother-in-law accepted delivery of a package containing marijuana. Calvo and his family were twice victimized, once by the pot traders who used his address to have their dope sent to, and again by the gung-ho, itchy trigger finger police.
It is unclear how many people were killed by police enforcing the drug laws in general or conducting drug raids in particular. Although in 1999 Congress authorized legislation requiring law enforcement agencies to submit such data, it neglected to fund the program. The incidents mentioned above are only some of the most egregious and well-publicized, but they suggest that even if doing drug raids isn't particularly dangerous for police, it is for their victims.
There is a better way, said a pair of former drug enforcement officers consulted by the Chronicle. It might be succinctly expressed as: "Chill out."
"There is no question that in the bulk of those raids, these are not folks with any history of violence, said former SWAT team member US Special Forces sergeant James Hanson, now communications director for the veterans' group Warrior Legacy Foundation. "That should be the first hurdle: Does he have a propensity for violence? Drug warrants almost never have that level of threat. The fears police claim to have are overstated."
But, he suggested, those fears can come to fruition precisely because of aggressive policing tactics. "If you dig deeper on the two or three that happened in 2008, it was the dynamic entry that triggered the violent incident," said Hanson. "Dynamic entry into a house is the most dangerous thing about it. Just wait for the guy to go to the 7-11, for goodness' sake," he exclaimed. "That way, you're not busting down doors, endangering kids, and escalating the situation."
Cops didn't used to need paramilitary squads to do drug busts, said retired LAPD detective Dave Doddridge, who had long experience enforcing prohibition. "We weren't scared, we'd go knock on doors," he recalled. We didn't need the overkill. When I first joined the department back in 1973, at roll call, they would read off the houses, and we would drive up in a patrol car and knock on the door. We managed," he said.
"I spent several years down in South Central kicking in doors and raiding homes, and probably served 50 search warrants," the former narc added. "We weren't SWAT, just a couple of narcotics detectives with our vests on, and none of us got seriously injured. There was seldom any resistance."
SWAT was originally envisioned as elite squads designed for rare but dangerous situations, such as hostage situations, barricaded suspects, or terrorist attacks. But in a case of mission creep gone mad, they are now used routinely for drug raids -- as noted above, to the tune of 50,000 or so a year.
"In a lot of these cases, because, thanks to funds from Homeland Security, they have a SWAT capability, they have to have a reason for having it," said Hanson. "Using SWAT to serve drug warrants allows them to say it's worthwhile, and overstating the potential for violence is part of that."
"SWAT definitely takes control of the situation, but that's not necessary for a family home," said Doddridge. "Maybe if there's a gang with a big drug house and they're manufacturing you should send in SWAT, but if it's a house, just send in an informant, buy the drugs, and get an arrest warrant. You don't need SWAT for that."
But the SWAT philosophy is well-entrenched in American policing. Changing that mentality, or at least reining in SWAT's overuse and abuses will be a difficult challenge. But it can be done.
In the Columbia SWAT raid case, public outrage led quickly to new restrictions on SWAT team deployments and new rules for their use executing search warrants. Similarly, public outrage in the case of Cheye Calvo, the Maryland mayor, led to the passage of the first state law in the country aimed at reining in SWAT. That law requires every department that has a SWAT team to report regularly on its activities.
"The Maryland law is a perfect example of what needs to be done," said Hanson. "There was no auditing of how many times these teams were used in dynamic entries -- nobody from the civilian side was looking at it. If we're going to ask police to serve drug warrants, we get to decide how they do it. We don't want to put police at risk, but neither do we want to put citizens at risk. There are too many instances of bad warrants, wrong addresses, or lying informants."
Doddridge, who has become a member of Law Enforcement Against Prohibition (LEAP) since he retired from the force has another idea. "We need a crack team of attorneys who are good at lawsuits to just go around and start suing like crazy," he suggested. "When they have to start worrying about paying money, that'll make them start looking over their shoulders."