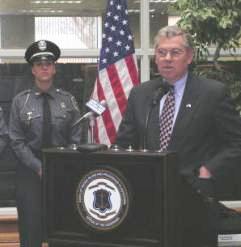 A special Rhode Island legislative commission created to review and assess marijuana policy has endorsed decriminalizing the possession of up to an ounce of marijuana. The decision came Tuesday, when the Special Senate Panel on Marijuana Prohibition endorsed a
report calling for decriminalization
.
Led by Sen. Joshua Miller (D-Cranston), the panel concluded in the report that "marijuana law reform" could save the state valuable funds by ending "costly arrests and incarcerations due to simple possession of marijuana." Estimates of the savings ranged from $232,000 to $12.7 million.
Under current Rhode Island law, possession of less than an ounce is a misdemeanor punishable by up to a year in jail and a $500 fine. Although few people are actually jailed for simple possession in Rhode Island, some 399 have been since 2007, and have served an average of 3 1/2 months. Also, the consequences of even a misdemeanor criminal conviction can have an adverse impact on people for years.
The panel voted to approve the proposal by a vote of 11-2. The no votes came from law enforcement representatives, who warned that marijuana was "dangerous."
The report and its recommendations now go before the full Senate.