Phillip S. Smith, Writer/Editor
In the revised edition of his prize-winning Canadian best-seller, Vancouver's Dr. Gabor Maté has made an important contribution to the literature on drug use and addiction. For more than a dozen years, Maté has been a staff physician for the Portland Hotel Society in Vancouver's infamous Downtown Eastside, home to one of the hemispheric largest, most concentrated populations of drug addicts. The Portland is unique -- once just another shoddy Skid Row SRO, under the management of the Society it is now both a residence for the hardest of the hard-core and a harm reduction facility.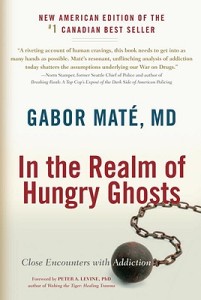 As a medical resident at the Portland, Maté has seen it all. The first section of "Hungry Ghosts" is filled with descriptions of his patients and their lives. Much of this is quite literally horrendous: Coked-out women turning tricks in alleys for their next rock and contracting syphilis; suicidal, opiate-addicted women refusing HIV treatments; mentally ill and alcoholic men dying young of liver cancer from Hepatitis C infections; people strung out on crack scrabbling at pieces of gravel on the sidewalk in the hallucinatory hope it's another rock; multi-addicted men and women, blood oozing from festering sores as they search yet again for a vein to hit, people overdosing and then going right back at it, people overdosing and dying.
And yet, despite the misery they are in and the wrecks that are their lives, they keep on using. "Hungry Ghosts" is an extended meditation on why. The second chunk of the book is devoted in particular to addressing that question. Maté offers an extended tour of the latest research into the disease model of addiction, with succinct and understandable (to the layperson) explanations of reward circuits in the brain, dopamine and serotonin flows, and all that good neuro-bio-pharmacological stuff so beloved of NIDA grantees. Repeated use of a substance indeed "rewires" the brain, creating pleasure circuits demanding to be fulfilled and pleasure deficits demanding to be fixed... with that next fix.
But unlike the NIDA people, with what I consider to be their neuro-bio-pharmacological determinism and reductionism, Maté goes a step further. He points out, accurately enough, that no matter what substance we're talking about, only a fraction of users, typically between 10% and 20%, become addicts. The "chronic relapsing brain disease" model may have some utility, but it fails to explain why some people are susceptible to addiction in the first place and others are not.
Maté noticed something about his downtrodden, strung-out clientele in Vancouver. They were almost universally abused as children, and at best, neglected. And I mean abused: Not spanked too hard, but raped, beaten, raped again, exploited, sent into foster care, literally spit on by their parents. It's very ugly.
One story especially sticks with me. A First Nations woman whose mother lives on the Downtown Eastside was given up at birth by her addicted mother, and sent to live with relatives, several of whom repeatedly sexually molested her in especially disgusting ways. She grew up an angry, depressed kid who turned to drugs and drink early. Tired of her life, she saved up $500 when she was 14 and ran away to Vancouver to find her mother. She did find her mother -- too bad for her. Mommie dearest promptly shot her up with heroin, spent the $500 on drugs for herself, then turned her out to turn tricks on the street. And you wonder why this woman prefers a narcotized bliss?
Maté doesn't just rely on anthropology and anecdote. He takes the reader instead into an extended look at the research on early childhood development and identifies messed-up childhoods as the key indicator of future substance abuse (as well as many other) problems. It doesn't have to be as extreme as some of these cases, but Maté makes clear that a nurturing early up-bringing is absolutely vital to the development of mentally and emotionally stable human beings.
Maté also has a startling confession to make: He, too, is an addict. The good doctor has been fighting a lifelong battle with his addiction to... wait for it... buying classical music CDs. He has behaved just like a junkie, he admits, spending thousands of dollars on his habit, lying to his wife, neglecting his kids, even leaving in the middle of medical procedures to run and score the latest Vivaldi. He's suffered the same feelings of compulsion, guilt, disgust, and self-denigration as any other addict, even if he doesn't have the scars on his veins to show for it.
At first glance, Maté's claim almost seems ludicrous, but he's making an important point: Addiction is addiction, whether it's to heroin or gambling, cocaine or shopping, he argues. The process of changes in the brain is the same, the compulsion is the same, the negative self-feelings are the same. We don't blame playing cards for gambling addiction or shopping malls for shopaholism; similarly, drugs are not to blame for drug addiction -- our own messed up psyches are the root of the problem.
And that leads to another important point: Those hollow-eyed addicts are like the rest of us, they are a dark mirror on our own inner problems, and most of us have some. (I'm reminded of a cartoon I once saw of a man sitting by all alone in an empty auditorium under a hanging banner saying, "Welcome to the convention of children of non-dysfunctional families.")
This is important because it stops us from dehumanizing drug addicts. They are not "the other." They are us, different only in degree. They deserve caring and compassion even if it is tough and seemingly fruitless work. Maté chides himself for falling from that saintly pedestal on occasion, and good for him.
Not surprisingly, Maté is a strong advocate of harm reduction and a harsh critic of prohibitionist drug policies and the US war on drugs in particular. By grinding drug users down even further, prohibition serves only to make them more likely to seek solace in chemical nirvana. It's almost as if prohibition were designed to create and perpetuate drug addiction.
In the final chapters of "Hungry Ghosts," Maté offers a glimmer of hope for beating drug addiction (or gambling addiction or sex addiction or whatever your particular compulsion is). It is a tough path of self-awareness and spiritual practice. I don't know if it will work -- I haven't tried it myself -- but it is important to remind ourselves that addiction is not necessarily a hopeless trap with no escape.
This is good, strong, compassionate, highly informed reading. I heartily recommend this book to anyone with an interest in addiction, addiction treatment, early childhood development, or drug policy. Thanks, doc.